Local elections: Union group in 'left of Labour' push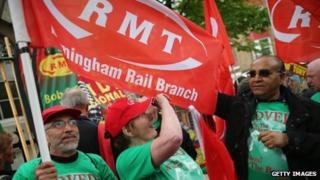 The Trade Unionist and Socialist Coalition has pledged to mount the largest electoral challenge from "the left of Labour" in 60 years.
The party, which is fielding 561 candidates at English local elections, has vowed to offer an alternative to the "austerity parties" in Westminster.
It is opposed to all local authority budget cuts, privatisation of council services and housing benefit cuts.
The umbrella group was co-founded by the late union leader Bob Crow in 2010.
Its members include unions that are not affiliated to the Labour Party - including the RMT, the Prison Officers Association and the Fire Brigades Union - as well as groups such as the Socialist Party and the Socialist Workers Party.
Individual members of unions which remain affiliated to Labour - such as Unite - are also among those representing TUSC at this month's elections.
Cutting services
The party is also fielding candidates in five mayoral election contests in England.
The organisation argues that Labour has let down working people, by failing to oppose public spending cuts vigorously enough nationally over the past four years and, at a local level, cutting services.
By fielding candidates, it says it is giving voters opposed to austerity a "working class political alternative".
It is also calling for:
a living wage
housing benefit changes, dubbed the "bedroom tax" critics, to be scrapped
local councils to determine their own funding arrangements