Conservatives would reform union strike rules, Cameron confirms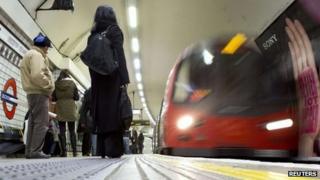 A future Conservative government would introduce a threshold on union ballots for strike action, Prime Minister David Cameron has said.
The PM pledged to take action on the matter if he won a majority in the 2015 general election.
In an interview with BBC London 94.9 Mr Cameron said he could not deliver the changes in coalition because the Liberal Democrats were "not keen".
London Mayor Boris Johnson said in April the PM was planning the reforms.
'Right to strike'
Mr Cameron said: "I want a Conservative government to pass new legislation so that strikes in central public services can't go ahead unless there is a proper threshold crossed in terms of the number of people taking part in the ballot.
"Of course there is a right to strike in this country, but in essential services, isn't it worth saying there ought to be a threshold before a strike is called, which causes so much damage?
"I am keen on it and a new Conservative government would deal with that."
During the recent strike action affecting London Underground services, Mr Johnson said he had been given personal assurances by the prime minister that he would "deliver a deal on day one of a new administration".
Mr Johnson has called for strikes to be unlawful unless 50% of staff in a workplace take part in a ballot.
Under the current law, a strike can take place if it is backed by a simple majority of those balloted.
In the case of the recent 48-hour strike Tube strike, and earlier strikes in February, 77% of RMT members who voted in the ballot last year backed action.
But the number of eligible RMT union members who took part was lower, at 40%, while London Underground said only 31% of the total workforce had actually voted in favour of the action.
At the moment, only members of the armed services, the police, and prison officers - regarded as essential public services - are prohibited by law from withdrawing their labour.