Labour to call Commons vote on letting agent fee ban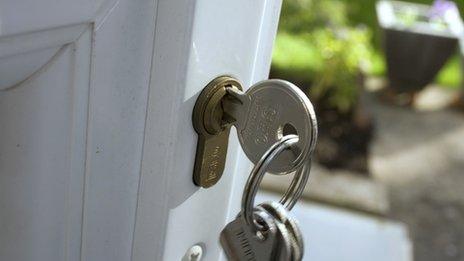 Labour are to call a vote in the Commons in an attempt to ban letting agents from charging fees to tenants.
Party leader Ed Miliband said people buying a house do not pay agents, but people who rent do and Labour was standing up for "generation rent".
The proposal will be tabled as an amendment to the Consumer Rights Bill in the Commons on Tuesday.
The Association of Residential Letting Agents said it was "deeply concerned" by Labour's proposals.
Under the party's plans estate agents would no longer be able to charge a letting fee for renting out properties in addition to requiring a deposit and the first month's rent upfront.
Mr Miliband said: "If the Conservatives and Liberal Democrats support us on Tuesday we can make this happen now. That could be implemented straight away."
During exchanges at Prime Minister's Questions on Wednesday, David Cameron indicated that he would be prepared to work with Labour on its other proposals for longer term tenancy agreements, although he rejected blanket rent controls.
Mr Miliband said: "David Cameron seemed to be warming to Labour's policy on rents. Now he has a chance to actually vote for it."
Emma Reynolds, Labour's shadow housing minister, said: "If the Tories and Liberal Democrats refuse to back Labour's proposals they'll have to explain why they won't stand-up for the nine million people who rent."
Earlier this month the Labour leader, while unveiling his party's new slogan "Hardworking Britain better off", outlined his party's plans to fight for a "fairer deal" for tenants who rent.
He said Labour wanted to see a cap on rent increases in the private sector as well as scrapping agent fees.
But Ian Potter, managing director of the Association of Residential Letting Agents, said Labour's plans could have an "adverse affect on tenants".
He said: "The challenge we have today is an unregulated market and a worrying lack of supply.
"Pledging to transfer fees to landlords or calling for outright bans will increase rents as landlords and agents seek to achieve returns. Fees are not arbitrary or unnecessary; they represent a business cost that Labour has failed to recognise.
"Political posturing on an issue that has such a great impact on people's lives is unfair."
The prime minister's official spokesman has declined to comment on Mr Miliband's recent comments.
Following Tuesday's vote, the Consumer Rights Bill will still need to go through a third reading in the Commons, after which it will be considered by the House of Lords before being enacted as law.