Is Whitehall ready for coalition endgame?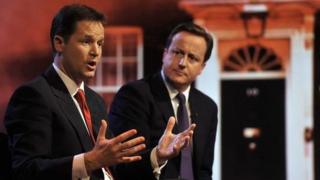 One of the most over-used phrases in political journalism is "coalition tensions" - not least because some of these supposed disagreements are sanctioned by each side.
But now the Institute for Government think tank - which has close links to the nation's mandarins - has released a fascinating insight in to what has being going on behind closed doors in Whitehall, exposing where genuine tensions exist.
It has interviewed around 30 very senior serving civil servants - at director-general level or above - to examine how the coalition is working in practice.
Their identities are not disclosed, but their contributions are revealing. Civil servants say ministers from both parties have worked well together in some departments. Indeed one official suggested that his team of coalition ministers was more "united" than the previous single-party team.
But in other departments the report suggests one side - often the Conservatives - has tried to exclude or bypass the other.
Advice
As a result, some civil servants are worried about their impartiality being undermined in the process.
One Whitehall mandarin revealed: "We are often… providing things sometimes for one or the other minister without copying in the other ministers in the department. That's quite an uncomfortable place for us to be."
He added: "There are occasions… where you do a bit of advice, particularly for the secretary of state… where they, as the most senior minister, basically say, 'We want you to do this and we don't want you to share it with anybody yet.'"
And there have been times when relations have at least temporarily broken down.
Senior civil servants confirm reports that the Lib Dems - including the relevant Home Office minister - had not been consulted last year when advertising vans were deployed in London urging illegal immigrants to go home. At the time Business Secretary Vince Cable described the initiative as "stupid and offensive".
A senior civil servant said: "If (a policy) is going to be controversial, cost a lot of money, whatever, then clearly it ought to go out for collective agreement. Arguably those vans should have done."
The prime minister himself appears to have caused some tensions.
In October 2012 David Cameron unexpectedly announced that all energy customers would be put on the lowest possible tariff.
A civil servant claimed that this decision had been made "completely on the hoof" and that ministers at the Department of Energy and Climate Change wanted government press officers to brief against Downing Street, causing "a huge breakdown in relations".
And last year, when the prime minister announced the rolling back of green levies, the Lib Dems apparently got very little advance warning.
'Difficult position'
In fact, according to one civil servant, they got 40 minutes' notice and the whole episode "probably spent some of the remaining political capital between the parties".
Now some civil servants fear the situation will worsen in the next year as the parties differentiate themselves further in the run-up to the election.
So the conclusion the Institute of Government reaches is that new ground rules are necessary.
Its director, Peter Riddell, believes rules are necessary to protect impartiality - and ensure both sides of the coalition get the advice they need.
He also argues that the opposition should get earlier access to senior civil servants.
"Civil servants already report that they are being put in a very difficult position as - in the absence of guidance from the centre - they try to work out how to give advice to ministers from different parties without being seen as favouring one party or another," he said.
"During the pre-election period, it is in everyone's interests, politicians and civil servants alike, that the guidelines are both publicly known and have been applied fairly.
"There is an obvious risk at present of unfairness to the smaller party, especially when most departments are headed by secretaries of state of the larger party.
"But a broader danger for government is that, without clearer guidelines, caution will prevail and insufficient work will be undertaken on post-2015 policy options in areas of disagreement within the coalition. This informality and lack of clarity are no longer good enough."
Interestingly, ground rules were drawn up for the last year of the Lib/Lab coalition in the Scottish Parliament ahead of the 2007 election there, with both parties being given impartial advice.
The permanent secretary to the Scottish government at the time was Sir John Elvidge, who has expressed surprise that Whitehall appears to be less well prepared for the closing days of coalition, when parties seek to compete as well as co-operate.
He said: "Planning for the end phase of a coalition is as important as preparing for the beginning. Experience since 2010 suggests that more could have been done in Whitehall to help the parties understand the challenges of operating in coalition but Whitehall has lacked that insight."
Downing Street sources said there were already rules on civil service impartiality - and said that while the political landscape may have changed, the same rules still applied.
No 10 does not believe the last year of coalition requires "a new playbook".