Labour figure facing abuse claims, says Cyril Smith book MP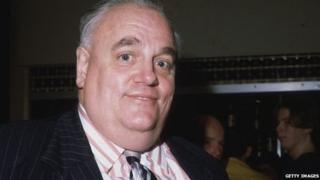 The Labour MP whose recent book claims Cyril Smith sexually abused children says he has met police regarding allegations against another politician.
Simon Danczuk said detectives visited his office on Friday to discuss a case involving a senior Labour figure and the alleged "aggressive" and "predatory" abuse of boys.
He told the BBC officers were taking the allegations "extremely seriously".
Smith was the Liberal MP for Rochdale from 1972 to 1992, and died in 2010.
In 2012, Greater Manchester Police launched an investigation into historical claims that he abused young boys in the 1960s while secretary of the Rochdale Hostel for Boys Association.
'Pursue a case'
Mr Danczuk, the current MP for the town, recently published a book - Smile for the Camera: The Double Life of Cyril Smith - which detailed his investigation into allegations of child abuse surrounding his Liberal predecessor.
He revealed his visit from police regarding a senior Labour figure in an interview with BBC Radio 4's PM programme.
"They're the allegations. They are of extreme significance and I know from speaking to the officers they're taking them extremely seriously and want to pursue a case," he said.
Mr Danczuk said he had formed a four-strong, cross-party group of MPs who were writing to Home Secretary Theresa May urging her to make sure all documents relating to such allegations were made available.
"I think we are getting to a stage where a number of disparate police investigations are going on up and down the United Kingdom, which I would have thought now needed bringing together in a more sophisticated way," he said.
He went on: "Because surely if we're talking about a number of parliamentarians across political parties surely it should be investigated in a smarter way, and it should be well resourced I would think."
'Harrowing'
The MP said he expected his book to have an impact, but did not anticipate he would be speaking to police officers from different police forces across the country about other politicians.
He added: "I never came into politics to examine the issue of child abuse, it's sort of been pushed upon me.
"It's harrowing, listening to some of the stories, but it's never as harrowing as what the victims have been through."
Former Liberal leader Lord Steel told the BBC last week he would not have recommended Smith for a knighthood in 1988 if he had had "the slightest inkling" of allegations that he had abused young men.
The peer said it was for the police and not the Liberal Democrats to explain why no action had been taken on the allegations in the past.
Smith's family have said he always denied such accusations.