Portsmouth MP Mike Hancock's bid to halt sex case rejected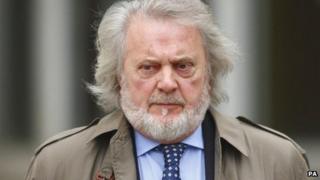 The High Court has rejected an application by MP Mike Hancock to halt civil proceedings by a constituent over claims he sexually assaulted her.
He had presented psychiatric evidence saying that he lacked the capacity to instruct his legal team.
The Portsmouth South MP is in hospital following a recent heart operation.
He is accused of forming an inappropriate relationship with a constituent which she alleges involved sexual assault.
'Severe depressive disorder'
Mr Hancock, who is standing as an independent candidate in Portsmouth's Fratton ward in May's local elections, applied to judge Master Leslie for an open-ended stay.
Harriet Wistrich, solicitor for the constituent, questioned how "a man standing for re-election in under four weeks time" can claim lack of capacity.
Mr Hancock, a former Liberal Democrat MP, has always denied the allegations against him.
In a statement his spokesman said was still recovering in hospital from the heart operation and that he also suffered from "a severe depressive disorder".
"He is, obviously, therefore unable to play any active part in his local election campaign," the statement continued.
"His Portsmouth and House of Commons offices remain open and fully staffed and are dealing with his work."
The civil hearing is currently due to take place in June.