Local elections: Tory message focused on economy and Europe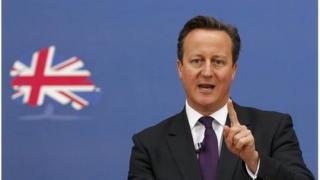 This was meant to be the launch of the Conservatives' campaign for the local elections in England.
On 22 May, 4200 plus seats will be contested in 161 councils.
But there was very little talk about local council prospects when David Cameron addressed party activists at the vast JCB warehouse facility in Newcastle-under-Lyme in Staffordshire.
Sure, he talked of Tory councils cutting and freezing council tax; there was an attack on Labour local authorities for "wasting" money and a plea not to let them do locally what he said they had done to the whole country before 2010.
But really that was about it.
Much of his speech was taken up with his assertion that we are now seeing "a great British revival" - an economy that is growing faster than most other parts of the developed world and one which is benefiting the whole country - exports rising fastest in the Midlands, and employment rising fastest in Wales.
It is not wholly surprising that Mr Cameron doesn't want to talk too much about the local elections themselves.
Incumbents
He is the incumbent after all, and that often means a kicking in local polls.
The Tories have already spent a long time managing down expectations for the European Parliament elections that will be held on the same day - most of the polls suggesting they'll trail in third behind Labour and UKIP.
But it is also true that these set of local elections are skewed towards Labour areas.
Roughly 45% of all the council seats being contested are in London alone - and London is more of a Labour city than anything else.
Back in 2010 when these seats were last contested, the Conservatives actually lost 93 seats - their first net loss in more than a decade.
Despite getting hammered in the general election which was held on the same day, Labour gained almost 300 seats.
So the Conservatives, in a sense, have less far to fall this time around though the clever number crunchers Messrs Rawlings and Thrasher predict that the Conservatives could lose up to 200 of the 1574 seats they are defending.
Potential losses
The Tories have control of 53 of the 161 councils up for election and they are vulnerable to losing places like Croydon in London, West Lancashire, Trafford and possibly Peterborough, which they have run since 2002.
On the upside, it's not impossible that they could wrest control of Kingston from their national coalition partners.
But you won't hear much about these battles outside of your local press because the rise of UKIP has meant that the European elections this year are sucking political attention their way.
David Cameron devoted a good deal of his local election launch to the European question, telling voters that the Conservatives were the only party that would deliver an in/out referendum.
The irony of all this is that the parties know all too well that the local election results this time around will be a far more reliable guide to what people could do at next year's general election.
Certainly not a foolproof guide, but much more reliable historically than European elections have ever been.