European elections: English Democrats 'to challenge UKIP'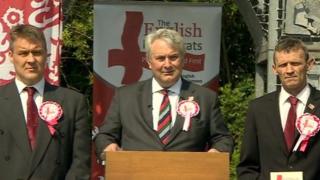 The recreation ground at Fobbing in Essex has a commemorative arch in memory of those who fought against tax rises during the Peasants' Revolt of the 14th Century.
Standing in its shadow the English Democrats launched their campaign for the local and European elections, and unveiled their chosen slogan: "Let the English revolt begin."
The party, which has existed in its current form since 2002, recently changed its main policy from a call for an English parliament to a call for an independent England. In part, the campaign director told me, this was to make the message easier to understand.
It is unashamedly a party of English nationalists who've repeatedly denied accusations of racism, saying they only want to make sure England is represented in the political process.
Chairman Robin Tilbrook said: "The Welsh and Scots are represented, but the English aren't. Part of the reason why we don't have fair treatment by the British establishment is that the English haven't been fighting their corner."
The "democratic" element of the party's name is reflected in its policy on methods of government. It wants all public appointments to be decided by direct election, and more use of referendums to ensure public influence over decision making.
Immigration
In fact it wants a referendum on English independence like that being held in Scotland in September, whether the Scots vote Yes or No.
The party cites the disparity in fees for prescriptions and university education between England and Scotland as examples of how the English have lost out as a result of devolution, and sees it as its duty to amend this by standing up for "English interests".
The message is repeated in the party's 28-page manifesto and constitution.
While it sets out broad aims on areas including health, education, transport, policing and the environment, it's honest about a lack of detailed policy, saying it would be unrealistic to deliver this on every issue at this stage.
But the party is clear in its stance on Europe. The English Democrats favour European co-operation but not EU membership, and state they'll campaign "forcefully" to leave.
Coupled with the campaign slogan "No to mass immigration", it seems a similar message to that of UKIP.
I asked Mr Tilbrook if he thought his party's pitch would get drowned out by Nigel Farage's campaigning. He told me: "I think what will gradually happen over the next few weeks perhaps, certainly over the next few months, is people will start to see behind quite a lot of what UKIP are saying.
"So far as I'm concerned the emphasis really needs to be on what's good for England. There are plenty of other parties talking about Britain and Britishness, the Liberal Democrats talking about EU-ishness, or whatever you want to call it, but nobody else apart from ourselves trying to stick up for England."
The English Democrats are a relatively young party, but they are fielding a full slate of candidates in the European elections for the second time.
In 2009 they didn't get an MEP elected and know it's still a tough task - but they're hopeful their "revolt" will begin in earnest on 22 May.