Prime Minister's Questions: David Cameron cut off by Speaker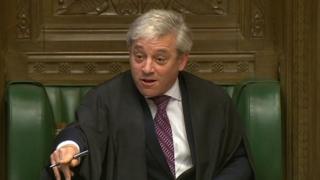 Speaker John Bercow cut off David Cameron at Prime Minister's Questions, telling him he had said enough.
Mr Cameron was in the middle of mocking Ed Miliband's new US elections adviser after heated exchanges with the Labour leader over Royal Mail privatisation.
Mr Bercow called rowdy MPs to order, prompting the PM to shout: "I haven't finished yet!"
A grinning Speaker replied, after a pause: "In response to that question, the prime minister has finished."
Mr Cameron was poking fun at the appointment of David Axelrod, a former adviser to US President Barack Obama, to Labour's general election campaign team as senior strategic adviser.
'Order, Order'
"We know he (Mr Miliband) has a new adviser from America, Mr Axelrod," he said.
"This is what he is being advised to say - let me share it with the House because I think it is excellent advice.
"He says there is a better future ahead of us but we must not go backwards to the policies that put us in this mess in the first place. I don't know what they are paying him..."
At that point the Speaker, who is campaigning to cut noise levels at the weekly session, stopped the prime minister in his tracks by shouting "order, order" - the traditional way he brings MPs to heel.
Mr Cameron's protestation that he had not finished was greeted with loud, sustained cheers from the Conservative benches in the Commons.
But Mr Bercow held firm, adding: "In response to that question, the prime minister has finished and he can take it from me that he is finished."
His intervention could further fuel tensions between the two men, who have clashed in the Commons in the past, and add to claims of bias by Conservative MPs.
In October, the Speaker rebuked Mr Cameron for describing Mr Miliband as a "conman" following his pledge to freeze energy prices and asked him to apologise - prompting anger among some Tory MPs.
On Wednesday, Mr Bercow was presiding over a particularly noisy session and had already warned Labour MP Fiona Mactaggart over her behaviour, telling her that as an "as an illustrious product of Cheltenham Ladies' College" she should know better.
The Speaker has pledged to clamp down on what he has called the "yobbish" behaviour of backbench MPs.
'Fiasco'
Mr Miliband used all six of the questions he is allowed to challenge Mr Cameron about City investors who were given a "golden ticket" to buy Royal Mail shares, and then sold them just after it was privatised.
Claiming taxpayers had been "ripped off," he asked how the firms had become involved and why they were allowed to sell immediately when postal workers had to wait three years.
"The more we know about this privatisation, the bigger the fiasco it is," he claimed.
"A national asset sold at a knockdown price, a sweetheart deal for the City, and the government totally bungled the sale. Everything about this privatisation stinks."
The prime minister insisted the privatisation had been a success and pointed out that, unlike other investors, postal workers had not paid for their shares.
He insisted there was no agreement with institutional investors about the length of time they could hold on to shares before selling them.
"This is a good deal for taxpayers because this business was losing a billion," Mr Cameron added. "It is now making money, paying taxes, gaining in value - good for our country but bad for Labour."
The Department for Business, Innovation and Skills later released details of the 16 banks and other investors which it said "gave the government the confidence" to float the company and which were later allocated shares.
They are: Abu Dhabi Investment Authority; BlackRock; Capital Research; Fidelity Worldwide; GIC; Henderson; JP Morgan; Kuwait Investment Office; Lansdowne Partners; Lazard Asset Management; Och Ziff; Schroders; Soros; Standard Life; Third Point; and Threadneedle.