A pint with Nigel Farage as he mulled big decision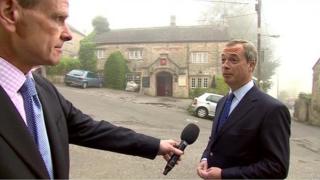 Over a late-night pint of Doom Bar in front of a warming country pub fire, Nigel Farage was more subdued than usual.
He was mulling over a momentous, make-or-break decision: to stand or not to stand in Newark.
"It's all about the balance of risk," he told me. "Whether the negatives outweigh the positives."
And that is why the UKIP leader chose not to stand.
The positives were huge. Indeed Mr Farage gleefully predicted if he stood and won David Cameron would be forced to resign.
On the other hand if he stood and lost, "the bubble would be burst".
He would be finished and UKIP set back years.
Mr Farage told me he had visited the Newark constituency a couple of years ago as a guest of the now discredited MP Patrick Mercer.
As a result he knew the local Tory vote would be a very hard nut to crack.
Portillo moment?
"It's a solid, elderly, middle-class vote," he noted. "I'd have a much better chance with a working-class vote."
Worse from his perspective, there was not much of a Labour or Lib Dem vote to squeeze. And he had no local connections or track record in the seat.
On the quest of a much better news story I tried to talk Mr Farage round to all the advantages of standing.
It would keep up the momentum after the euro elections. It would be an act of courage. Seize the initiative. You may never get this chance again. Remember Michael Portillo.
The UKIP man nodded along. He knew the arguments. He was tempted but...
He said he would wait to see the polling and research work produced by the UKIP staffers overnight before making his final decision.
But even then I could sense he knew Newark was a risk too far.
"Another pint..?"