MPs urged to face bi-annual grilling by constituents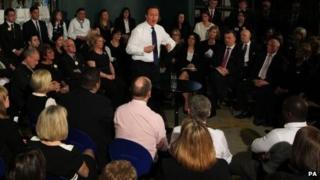 All 650 MPs should be questioned by their constituents twice a year to improve public involvement in the political process, a new study urges.
The Hansard Society said a "People's Question Time Day" would attract greater media attention and make MPs more accountable between elections.
Its latest audit of political engagement also found support for MPs to face by-elections for bad behaviour.
The coalition pledged to put forward so-called plans for recall before 2015.
Publishing its 11th annual review of public attitudes to politicians and Parliament, the Hansard Society said levels of interest and knowledge in politics were stable or improving.
However, of the 1,286 adults questioned for the research, 67% said politicians did not understand their lives while only 23% said Parliament encouraged public involvement in politics.
Media scrutiny
Just 14% of those questioned felt they had some influence over national decision-making, while 26% believed they had some say over issues at a local level.
On the conduct of MPs, just 21% said they were behaving more professionally than a few years ago and 77% said they should undertake regular ethics and standards training.
However, 62% agreed that MPs were no worse than they had been in the past but the public simply knew more about their activities as they faced more media scrutiny.
Asked what changes would be most effective in holding politicians to account, a bi-annual Question Time session where all MPs would face their constituents on the same day and a process of recall for serious wrongdoing were the most popular, with 44% and 42% support respectively.
In contrast, only 7% of respondents thought forcing MPs to use social media sites like Facebook and Twitter would be effective, while 13% believed newspapers should devote a daily page to reporting proceedings in Parliament.
Dr Ruth Fox, director of the Hansard Society and author of the report, said many MPs already held a public event for constituents but these often did not attract any public attention.
"A nationwide 'People's Question Time Day' twice a year, in which all MPs held an event in their local area at the same time would attract a level of media and public attention and focus that is simply lacking when they do it individually," she said.
'Public dissatisfaction'
More widely, Dr Fox said the clear-out of MPs after the 2009 expenses scandal - with nearly a quarter standing down at the 2010 election - had done little to improve public trust in Parliament.
"The public remain as dissatisfied as ever with the culture and conduct of politics.
"They want MPs to behave more professionally and to deliver what they promise, including the right to recall their MPs for serious wrongdoing."
The Conservatives and Lib Dems have been accused of failing to fulfil pledges in their 2010 manifestos to introduce a system of recall for MPs amid a dispute between the parties about how they would work.
However, No 10 has said it still supports the idea to allow constituents to trigger by-elections if certain thresholds are met.
Plans could yet be put forward in June's Queen's Speech, in which the government will set out its legislative programme for its last year in office.
The Hansard Society's survey also suggested lower levels of knowledge and interest in next month's European Parliament elections compared to general elections.
Of those questioned, 77% said they knew less about the issues in a European election than a general election while 61% said general elections were simply "more important".