Cameron: I won't stay as PM after 2015 without EU referendum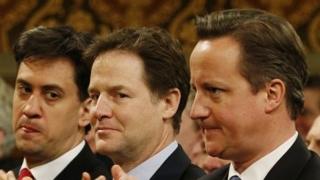 David Cameron has said he would not serve as prime minister after the 2015 general election if he could not deliver a referendum on Europe.
The prime minister said he would not "barter or give away" his pledge to hold a vote on EU membership in 2017.
He made the "really clear promise" in a phone call with Tory activists ahead of next month's European elections.
Labour and the Liberal Democrats have said they oppose a referendum unless more powers are transferred to Europe.
The Conservatives' commitment to hold a referendum on Europe is likely to be a "red line" in any negotiations with other parties about a potential coalition should next year's election not produce an outright winner and there is another Hung Parliament.
In a Q&A session with Conservative members ahead of next month's European and local council elections, Mr Cameron said a referendum would be a "very high priority" for a future Conservative government.
Renegotiating the terms of the UK's membership was "eminently achievable", he suggested - pointing to concessions the UK has achieved in the past such as its success in pressing for a freeze in the EU's budget.
Mr Cameron said he believed most people did not want to walk away from the European Union but believed that major change was necessary in the balance of powers between London and Brussels.
'Clear statement'
Only the Conservatives could deliver the change that was needed, he said, contrasting his party's position with what he said was Labour's support of the status quo and UKIP's desire "to pack up and walk away".
If the Tories won the 2015 general election and formed a majority government, it would "need to work quickly and to hold that referendum", he said.
"It would be very high up the list of priorities for an incoming government.
"This is not something I would ever barter or give away. I would not be prime minister of a government unless we could carry out our pledge of an in-out referendum.
"I think that is a really clear promise and a very clear statement to make."
The prime minister said he had support among other EU members for "sensible changes" to how the 28-member organisation operated.
"I am confident. I would not have set off down this path unless I thought I could deliver a good deal for Britain and a referendum. I can deliver both of those things."
Labour has said it is "unlikely" that it would hold a referendum if it wins the next election while the Lib Dems have said promising a referendum in three years time will create uncertainty and damage the economy.
The Conservatives' attempt to legislate for a referendum in 2017 failed earlier this year when a private members' bill paving the way for a future vote was effectively blocked in the House of Lords.