European elections: Greens see boldness as key to success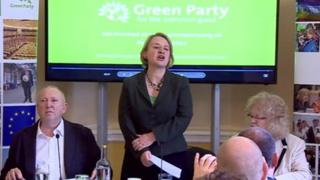 Natalie Bennett, the leader of the English and Welsh Greens, launched her party's European election manifesto at Church House in London - but she wasn't looking for divine intervention to push up the tally of two MEPs at next month's polls.
Instead, she declared that it would be boldness that would bring electoral benefits.
And there was plenty of that.
Amongst the Greens' policies are the scrapping of tuition fees, the introduction of free personal care, an increase in child benefit, a higher "citizen's pension", a living wage, the renationalisation of the railways and lower fares, a reduction in some rates of VAT, and... that's before we have even mentioned the environment.
In that area, the Greens say energy companies should also be removed from private ownership.
But as well as boldness, economic and fiscal credibility tends to help a party's election chances.
So I asked Natalie Bennett how her policy wish list would be funded.
She told me that the party's last general election manifesto had been fully costed and the next one would be too but not this one, though.
The European manifesto, she said, was more about setting out a road map for change than an accounting exercise.
Tax rises?
However, she did give me some clues about the 2015 manifesto.
"In 2010 we had a top tax rate of 50p in the pound starting on £100,000 of income," she says. "I expect it will have to be higher than that.
"With the 2010 manifesto it was only the top 6% of earners who were paying more tax.
"What we need are multi-national companies and rich individuals paying their tax, and they are simply not doing that at the moment."
She added: "We need a society which works for the common good, we need decent benefits, we need to make the minimum wage a living wage and make sure that privatisation doesn't cost us a fortune."
Monday's launch opened with a video satirising - some might even say stereotyping - the Lib Dems and UKIP as polar opposites, with a Nick Clegg lookalike displaying child-like enthusiasm for the EU, while a Nigel Farage figure propped up a bar and pedalled well-worn Euro myths.
Constructive critics
The point was to portray the Greens as constructive critics of the EU - opposing the euro, and the EU/US trade deal, which they think could lead to further privatisation - but arguing for change from inside, not outside, the institution.
The party is currently a member of the fourth largest group in the European Parliament so its influence is limited but Natalie Bennett points out that many decisions are reached by consensus and in any case the Conservatives - who left the main centre right grouping, the EPP, in 2009 - are now in the fifth largest bloc.
And to broaden their appeal, the Green Party leadership are deliberately emphasising policies in areas which aren't simply the concern of environmentalists.
Under the proportional voting system used in European elections, the Greens calculate that just a 1.6% increase in their vote could triple their number of seats to six.
And Natalie Bennett claims that her party is attracting Lib Dem defectors "horrified by betrayals on tuition fees and nuclear power" and Labour supporters disillusioned by the party's rhetoric on welfare reform.
Anti-establishment voice
The party also hopes to court, in her words, people who feel drenched by the "flood of media coverage" for UKIP and "who are saying enough!"
Back in 1989 the Greens - as an alternative to the mainstream parties - got nearly 15% of the vote at the European parliament elections.
Last time round, UKIP did even better than that, winning more than 16% - with the Greens on 8%.
However, Natalie Bennett doesn't believe her party has been displaced by apparently more successful anti-establishment opponents.
"I don't think that's the case. There is a strong and growing anti-UKIP vote - and people are saying that they don't speak for me on migration or social issues."
The question is whether the Greens - with a party leader who doesn't herself hold elected public office and who has had a lower profile than her predecessor, the MP Caroline Lucas - will seem the obvious place for that vote to go.