MP Nigel Evans rejoins Conservatives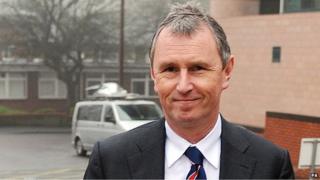 Nigel Evans, the MP for Ribble Valley who was recently cleared of a number of sexual offences, has rejoined the Conservatives in the Commons.
Mr Evans resigned the party whip and sat as an independent MP as he fought the charges, but officials said it had now been restored.
A jury unanimously found the 56-year-old not guilty of all the allegations after a five-week trial.
He had also stood down from his post as deputy Commons Speaker.
A Conservative Party spokesman said: "Nigel Evans met with Sir George Young, Government Chief Whip, at number nine Downing Street this morning, and the Conservative whip was restored to Nigel."
Mr Evans said: "I am delighted to have the Conservative whip again. This represents a full stop after the events of the past 11 months."
He was succeeded as deputy Speaker by his Conservative colleague Eleanor Laing.