Senior UK diplomat Sir Simon Gass visits Iran for talks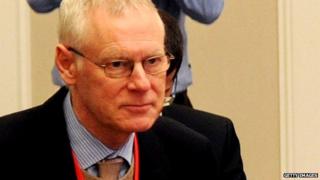 The head of the Foreign Office's political unit, Sir Simon Gass, is visiting Iran, the government has said.
Mr Gass is the highest-level British diplomat to visit Iran since the UK's embassy closed in 2011.
He had been the UK's ambassador to Iran from 2009 to 2011.
The Foreign Office said talks on reopening the embassy were progressing well and that this visit was the next step in that process.
But it said no timescale has been established so far.
In December, the UK's non-resident charge d'affaires to Iran, Ajay Sharma, visited Tehran, becoming the first British diplomat to do so for more than two years.
He said: "I held detailed and constructive discussions with the Iranian Ministry of Foreign Affairs about taking forward our bilateral relationship on a step by step and reciprocal basis. I also visited our embassy compounds to assess the damage caused in 2011.
"I intend to visit Iran regularly to continue the step by step process of improving relations between our two countries."
UK diplomatic staff were withdrawn from Iran and the embassy closed in 2011, after it was attacked by protesters.
The US and the EU have long suspected that Tehran is trying to develop a nuclear weapon, in contravention of the Nuclear Non-Proliferation Treaty (NPT) and have imposed sanctions on the country.
But Iran has always denied any military motivation for the programme, insisting it was for civilian purposes only and within the terms of the NPT.
Sir Simon is also the prime minister's special representative for Afghanistan and Pakistan.