'Plebgate' PC seeks £200,000 libel damages from MP Mitchell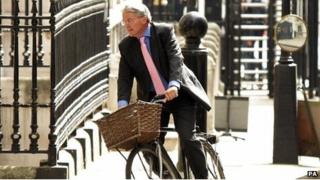 The police officer at the centre of the "plebgate" row is seeking damages from former Chief Whip Andrew Mitchell of up to £200,000, court papers show.
PC Toby Rowland is suing Mr Mitchell for suggesting the officer was not telling the truth about the dispute at the gates of Downing Street in 2012.
Mr Mitchell was accused of swearing at police and calling them plebs - allegations he has denied.
The Conservative MP resigned as chief whip in the wake of the controversy.
In documents submitted to the High Court, lawyers for PC Rowland justify the claim on the grounds that his reputation has been damaged by Mr Mitchell's remarks and he suffered "great distress, humiliation and upset".
He is seeking damages including "aggravated damages for libel, and if appropriate, slander".
However, even if the officer were to win the case there is no guarantee he would receive the maximum amount.
Stating case
BBC home affairs correspondent Danny Shaw said the latest twist in this "extraordinary saga" was the revelation of the level of damages that PC Rowland was seeking.
Legal sources have confirmed that the upper limit is £200,000.
In a libel action brought by Mr Mitchell against the Sun - the first newspaper to report the Downing Street incident - he is believed to be claiming damages of up to £150,000.
Stating his case in detail for the first time since the incident, PC Rowland insists Mr Mitchell erupted after being blocked from cycling out of the pedestrian gate outside Number 10.
PC Rowland claims that in their conversation when Mr Mitchell telephoned him to apologise there was the "clear implication he admitted using the said words".
PC Rowland is demanding up to £200,000 and has asked for an injunction to "restrain" Mr Mitchell and those acting on his behalf from repeating the claim that the officer's version of the exchange was fabricated.