Nick Clegg advocates separation of Church and state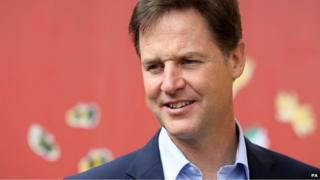 Church and state should be separated "in the long run", Deputy Prime Minister Nick Clegg has suggested.
On his weekly LBC Radio phone-in programme, the Lib Dem leader defended PM David Cameron's description of the UK as a "Christian country".
But he said Church and state should eventually "stand on their own two separate feet".
Asked about the comments, Mr Cameron said: "It's a long-term Liberal idea, but it is not a Conservative one."
"I don't want to see that. Our arrangements work well in this country," the prime minister said.
Under the British constitution, the Queen is also the "Defender of the Faith and Supreme Governor of the Church of England", and 26 Church of England bishops have seats in the House of Lords.
'Nonplussed'
In his radio show on Thursday, Mr Clegg said: "I think it would be better for the Church, and better for people of faith, and better for Anglicans if the Church and the state were, over time, to stand on their own two separate feet."
Mr Cameron faced criticism from the British Humanist Association for arguing, in a Church Times article, that "we should be more confident about our status as a Christian country" and that Christians should be "more evangelical" about how they "make a difference to people's lives".
Mr Clegg, who is an atheist, said: "I'm not a man of faith but I don't find it particularly controversial to say, if you look at our history, heritage, our architecture, our values, of course it is infused by Christianity.
"I'm slightly nonplussed by people getting very worked up about it.
"We have an important Christian identity in terms of our history and heritage and so on.
"That is not to say that somehow we are exclusively Christian, where everybody is a Christian or indeed that we have got one Christian denomination - there are almost as many Catholics as Anglicans in this country.
"Of course we should remember that one of the greatest Christian values - if you want to put it that way - of tolerance, is that we are open to people of other denominations, other faiths, of all faiths and none.
"It's the senses of fair play and tolerance that makes our country very special."
'Baffling'
The Archbishop of Canterbury has said David Cameron is "right" to state that the UK is a "Christian country".
The Most Rev Justin Welby wrote in his blog that it was a "historical fact (perhaps unwelcome to some, but true)" that UK law, ethics and culture were based on its teachings and traditions.
He called the criticism of Mr Cameron by "atheist protesters" over his remarks "baffling".
The 2011 census found 59% of people in England and Wales said they were Christians - down from 72% a decade earlier.
In Scotland the figure was 54% - down from 65% - while the percentage fell slightly to 83% in Northern Ireland.