Foreign prisoner deportation 'should be sped up'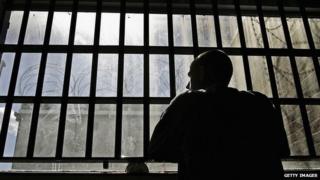 Foreign inmates are not being deported quickly enough to help cut costs and relieve overcrowding, the Public Accounts Committee (PAC) has said.
The Commons' committee also said more should be done to prepare UK prisoners for early release.
It urged the National Offender Management Service (NOMS) to look at its standards as a "matter of urgency".
The government said it was cutting the number of foreign prisoners and this would remain a "top priority".
NOMS, which manages 116 public prisons in England and Wales and the contracts of 14 private prisons, is responsible for a prisoner population of about 84,000.
'Really disturbing'
But Labour MP and chair of the PAC Margaret Hodge said its record on reducing the number of foreign national prisoners was "frustratingly poor".
"It's quite shocking that the people responsible just can't get a grip of the backlog and deal with this big bulk of people in our prisons," she said.
"Just deport those people who've chosen to come and live here, who've committed a crime which commits them to prison and who should therefore lose the right to come here."
Speaking on BBC Radio 4's Today programme she said: "This has been going on for years and years and years - this isn't a partisan point.
"What was really disturbing was that between 2009 and 2012, the number of people being deported actually got less."
The PAC report said that about 1,000 foreign national offenders were deported per quarter - roughly the same as the number of foreign nationals convicted in the same period.
This meant the overall number of foreign nationals in the UK's prisons remained around 11,000 - or 13% of the total prison population. They cost around £300m a year, according to the committee.
The report recommended that NOMS work with the Home Office to identify and remove barriers to removing foreign offenders.
Changes, such as the ratification of prisoner transfer arrangements across Europe, could provide an opportunity to remove foreign criminals more efficiently, it suggested.
The Chief Inspector of Prisons, Nick Hardwick, said lots of foreign prisoners would rather be returned and the failure to deport them was a missed opportunity.
"There are some quick wins," he told BBC Radio 5 live. "Prisoners who should go back, who want to go back, whose countries would not have a problem about having them back - and yet they get missed sometimes."
But Justice Minister Jeremy Wright said the "vast majority... do a great deal to frustrate our efforts to sent them home".
"Very often, prisoners will tell us that they wish to challenge their deportation through the courts," he said.
He said he accepted the foreign prison population was too large but added: "Whether it's negotiating prisoner transfer agreements, where prisoners don't have the option about going home, or whether it's about reducing appeal rights against deportation, these are very real measures to get those numbers down."
'Well managed'
The committee did praise NOMS for making "significant savings in running costs", estimated to be worth £70m a year, by 2015-16.
The service is facing a £650m reduction in its £3.4bn budget.
The cuts strategy had been "well managed", Mrs Hodge acknowledged, with "experienced and consistent leadership".
Welcoming improvements in value for money, the PAC said new prisons were providing good, modern accommodation.
But it said inmates were still having to share cells, sometimes in overcrowded conditions, and that some high performing prisons had been closed before new ones were up to standard.