Caring men have more 'cojones', Nick Clegg's wife Miriam says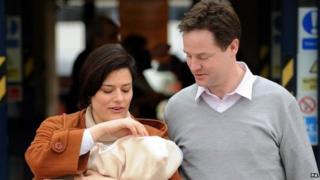 Men who believe in gender equality and look after their children have "the most cojones", Nick Clegg's wife has has said.
Miriam Gonzalez Durantez intervened at a question session held by the deputy prime minister, criticising "dinosaurs" who believed such work was not for men.
Mr Clegg, who has taken paternity leave, said he "massively agreed".
The comments came after he made a speech backing "radical change" to the parental leave system.
Ms Durantez said his proposed measures were "all very good".
"But as you and others rightly say there is an issue of attitudes," she continued.
'Absurd'
"There are many, many dinosaurs - not here, out there - who still think that a man who takes care of his own children, he is somehow less of a man.
"So if you and other modern working fathers start saying not only loudly, but also proudly, that taking care of your own children and being responsible for your children does not affect your level of testosterone - and that those men who actually treat women as equals are the ones with the most cojones."
The intervention drew applause from the audience.
"I of course agree with you. I always do," Mr Clegg replied.
"I massively agree. The idea that it is not manly to care is as absurd as saying it's not womanly to work."
The government has previously committed to introducing a year of shared leave for new parents by April 2015.
In November, Mr Clegg said the rights would allow men to become more hands-on fathers and stop women feeling they have to choose between a career or a baby.
Since April 2011, fathers and mothers have been able to share some of the 52 weeks of leave, with the father able to take up to six months beginning after the baby is 20 weeks old.
However, this can only be taken as a single block - as can the leave the mother takes.
Under the proposed new arrangement, first trialled last year, the existing 52 weeks of maternity leave, other than the first fortnight for a new mother's recovery, will be shared between the parents.
In an effort to allay fears of the impact on smaller firms, bosses will have to agree any proposed pattern of time off and will retain the right to insist it be confined to a continuous block, with no more than two subsequent changes.