Expectans semper te expectabo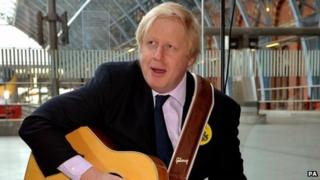 When it comes, it may be in Latin of course. Or Greek. So there's a chance no-one would actually realise if Boris Johnson did announce his intention to run as an MP in the next election.
But my understanding is that his announcement could come within the next six weeks, or, to put it more simply, once the European and local elections are out of the way, so he doesn't create what one source described to me as "the Boris soap opera distraction effect".
So why are things hotting up? Well, mainly because the invitation has been extended from the PM, who's made it clear he would like Boris - his "top striker" - back in the team.
Now, football analogies are quite painful at the best of times, but this one actually works rather well. The Cameron plan - as I understand - is to present a cabinet of giants to the electorate before the next election.
Big beasts
You take the likes of Hague, Osborne, Cameron, Gove, and throw in Johnson for good measure, and suddenly it's looking like a front bench of big beasts.
He wants to put on show his "proven team" versus a team of "nobodies" he thinks Labour will offer up. There is even talk of Boris Johnson being given a proper job within a winning Cameron cabinet of 2015 - Secretary of State for Infrastructure, for example.
Of course, nothing happens without due process, so the big question is which seats could be or would be freed up - and where would be geographically feasible for a man who has maintained for years he is just "getting on with the job" (of London Mayor, you understand).
The most likely vacancies would be George Young's seat in North West Hants - as he's already announced he's stepping down - or possibly Andrew Lansley's seat in South Cambridgeshire, if he became, for example, European Commissioner. But both these seats are slightly too far from the Beltway for a London mayor, surely?
So then things get harder. Of the rumoured London seats up for grabs - the MPs of Richmond Park, Bromley and Chislehurst, Beckenham, and Uxbridge and South Ruislip have all stated unequivocally they will stand for re-election.
So what's left? Kensington and Chelsea would be an obvious one, should Malcolm Rifkind, say, be elevated to the Lords.
If the London factor were not deemed so key then things get easier. Father of the House Peter Tapsell is standing down in Louth. This is solid Tory territory but possibly open to a UKIP incursion. They might welcome him in there.
Ruthless smoothness
Patrick Mercer has also announced he will step down at the next election - in Newark. This too is somewhere the Conservatives might wish to insulate against UKIP - and Boris might be the man to do it. But both places make the day job look pretty awkward.
One thing is certain, it will be managed with the ruthless smoothness we've come to expect from Lynton Crosby - Johnson's own election guru, and now Cameron's.
A retirement, a nod and a wink from Conservative HQ and a short list of three.
In theory, Boris Johnson would also have to do his parliamentary assessment board to make sure he's suitable to sit on the approved list of candidates. Think of it as a rather odd looking "L" plate. On a Boris bike.
The bookies are still betting on Boris Johnson not being an MP at the next election. There may be money to be made there, if you're quick.