UKIP angry over similarly named rival party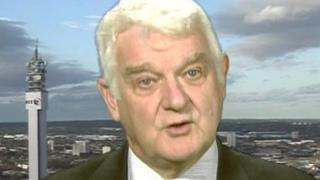 UKIP has said it is considering legal action over the name of another Eurosceptic party contesting the forthcoming European elections.
A party called An Independence from Europe has been set up by a former UKIP MEP, Mike Nattrass, who was deselected as a candidate by the party.
UKIP said it would protest to the Electoral Commission to try to get the name ruled unfair, arguing that it was clearly designed to "con voters".
Mr Nattrass vowed not to melt away.
But a spokesman for the UK Independence Party said the party would "fight this all the way" and if it did not get satisfaction from the electoral commission it would seek a judicial review.
An Independence from Europe, which is using the tagline "UK Independence Now" on ballot papers, has pledged to field a full slate of candidates in England for the European elections, including an all-woman list in the north west.
Beginning the party name with "An Independence" is likely to secure the party the top spot on ballot papers ordered alphabetically, whereas the UK Independence Party (UKIP) will appear close or at the bottom of the list of parties.
Literal Democrats
Gawain Towler, a candidate for UKIP in the South West of England constituency, called the rival campaign a "deliberate spoiler".
He said: "It is a transparent attempt to get to the top of the list, but they could have called it the Aardvark Party if they'd just wanted to do that.
"They're not allowed to pass themselves off as someone else. They are trying to cause as much trouble as they can."
But Mr Nattrass said that "UKIP does not have sole right to the word independence".
He added: "I have put down what I believe in, and I have always stood for an independence from Europe. I can't see what I have done wrong."
The Electoral Commission said it had not yet received a formal complaint from UKIP, but confirmed it was meeting party chairman Steve Crowther later on Wednesday.
A spokesman said the commission did not believe that either the name of Mr Nattrass's party, or its description, were confusing or offensive - which are the key legal tests political parties have been made to pass before they can compete in elections since a change to the law in 1998.
Before that, in the 1994 European elections, the Liberal Democrats famously lost out in the Devon and East Plymouth constituency to the Conservatives by just 700 votes, after losing support to a party called the Literal Democrats, which attracted 10,000 votes.