Boris Johnson's fudges are approaching sell-by date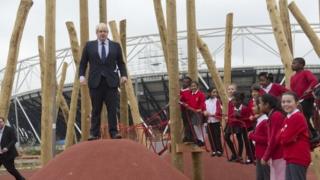 They are some of the biggest questions in politics. Will he or won't he? If he will, where? And, most importantly, if he does, when?
I'm talking about Boris Johnson, the Mayor of London, and when he will run for Parliament again.
And yes - just like a lot of life's big questions - on a scale running from "clueless" to "hard fact", we are rather closer to the former than the latter.
So what do we know?
Boris is a winner, triumphing twice in London - a city often inclined towards Labour.
Boris is known as Boris and Boris alone: being a politician nearly universally referred to on first-name terms by the electorate is an incredibly rare and very marketable commodity.
Oh, and Boris is ambitious. So, when is he going to play his hand?
'Soap opera'
The Daily Mail and The Sun report that Mr Johnson will announce his plans to stand for Parliament by the summer and is being urged to get on with it so it is no longer a distraction.
On leaving home this morning, kitted out in shorts - which just about stayed up - a T-shirt and garish cycle helmet, all the London mayor would say was: "I'm getting on with the job."
Yes, that six-word sentence is one he has used as his verbal shield for rather a long time.
The thing is, the prime minister has already said he would like Boris back "on the team".
And let's say Boris fancies a crack at being Conservative leader - that is, if the Tories lose the next election and David Cameron stands down - he would need to be in Parliament when that happens.
So what are Conservative backbenchers saying about it all?
When I rang one of Boris's supporters in the Commons, the answer was immediate, and with a smile, before I'd even properly said hello.
"Boris! Boris! Boris! I'm not talking about Boris today!" he told me.
'On the hunt'
Others expressed frustration at what they saw as the "soap opera" of it all, and how that distracts from the party's big messages and from Mr Cameron.
Another observed that he would probably have far more fun carrying on as mayor of London than becoming a backbencher. The MP advised he should stick to the day job and even run for a third term, something the mayor previously said he wouldn't do.
There is also the issue of the process of finding a seat.
Newsnight's Political Editor Emily Maitlis has blogged here on where the mayor may be looking for a constituency to target.
Mr Johnson wouldn't have many of those awkward introductions to do on turning up in front of a local party to make his case, fearful they didn't have a clue who he was.
But equally, one MP warned: "It's not completely a foregone conclusion. There is nothing local Conservative Party members hate more than being taken for granted and it would take at least some time."
The MP said that Mr Johnson "is on the hunt for retirees" and, with a chuckle, added that the best time for the announcement would be "late summer".
"In fact very late summer. How about the week of the Labour Party conference?"
So the chat, the speculation, the pondering continues.