Commons Speaker John Bercow fights 'boring' politics stereotype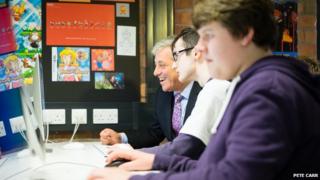 Unruly. Noisy. Even rude.
Week after week, not even the Bercow bellow can always keep a lid on things at Prime Minister's Questions.
It's an atmosphere that angers the speaker.
In a rare interview, he told us it puts off some MPs, and in particular women, from even turning up.
We had joined John Bercow on a day trip to Liverpool.
A big part of his pitch to be speaker when he was elected in 2009 was that he would do rather more than sit in that chair in the House of Commons and tell MPs to shut up.
Not that he doesn't do plenty of that.
But he promised too to reach out: get out of Westminster, get in to towns and cities and talk about politics.
Digital democracy
We sat down for a chat on the train from London to Merseyside.
He would always be impartial as speaker, he said, but didn't need to be impartial about Parliament.
In other words, he could be its champion - challenging cynicism, taking on stereotypes, changing attitudes.
The first stop for us on Merseyside was the Studio School.
Teenagers have designed an on-screen version of table tennis - and challenged the speaker to a game.
It turns out he's not much cop playing electronic ping pong.
But his personal digital deficit hasn't put him off setting up the Speaker's Commission on Digital Democracy.
It's a listening exercise to work out whether Parliament needs a technological kick up the electronic backside; and how it might modernise in its outlook towards technology.
Mr Bercow told us that while it wasn't ultimately a decision for him, he was open to suggestions such as MPs voting electronically in the Commons.
His commission will report at the start of next year.
'Authentic' enthusiasm
After a discussion with local IT businesses, the speaker's next stop was Goodison Park, the home of Premier League football club Everton.
Now, any middle aged man seen charging around a football pitch in a suit and a smile creates an image where the absurdity of it is hard to shift from the mind.
But John Bercow's enthusiasm, with a football at his feet, is authentic.
He is an Arsenal season ticket holder.
His last visit here was less than a fortnight ago, when his team were convincingly beaten by Everton.
Mr Bercow was in Liverpool to chair a question and answer session with people who work for the charity Everton in the Community.
Plenty are quick to say to us that politics is boring and irrelevant to their lives.
It's a reminder: Amongst the political stories we often report on, including the gripping, the everyday, the mundane and, yes, the downright forgettable, there is so often an overarching theme.
Is Westminster the political concert at which fewer and fewer people are in the audience?
Mr Bercow has concluded the definitive answer to that question is yes.
He has his own ideas as to why and he wants to do something about it.
'Persistent tension'
Changing the perception of politics through changing the tone of Prime Minister's Questions is one idea.
Being a pro-active ambassador for Parliament is another.
Some MPs despise how he chairs Prime Minister's Questions, with his regular pleas for more orderly conduct.
Others question his desire to get out of Westminster.
Two things are striking.
It's likely his successors will continue what he calls the "outreach work" that he has built into the job description of the speaker.
And he will continue to wrestle with the persistent tension between two instincts - his modernising impulse, running up against the stickiness of tradition in an institution, Parliament, that reveres it.