Rising wages change terms of debate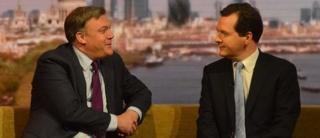 So finally, after four years, wages have started rising faster than prices. The Office for National Statistics says that pay rose by 1.7% in the year to February while consumer prices rose by just 1.6%.
But note this: from the government there has been no whoop of joy to celebrate the end of what Labour calls the cost of living crisis. Instead, official statements put out by both sides of the coalition are more subtle.
Both George Osborne and his Treasury colleague Danny Alexander issued press releases focusing on the improving employment figures.
And on the cost of living, the chancellor said: "The only way to see rising living standards is to grow the economy."
The chief secretary said: "The only way to higher living standards is to take the difficult decisions needed to deliver our long term economic plan."
On the face of it, this is extraordinary stuff. For months, the coalition has been on the back foot over the cost of living since Ed Miliband promised that he would freeze energy prices. Now ministers have real ammunition with which to fight back and yet they are staying their hands.
As one senior government source told me: "We are not crowing. These are very early days."
The most celebratory tone, if any, came from the Employment Minister Esther McVey, who spoke of a "seismic shift", but she was referring to the economy's improvement as a whole since the financial crash rather than the cost of living in particular.
The coalition's aim is to head off Labour attacks such as this from Rachel Reeves, the shadow work and pensions secretary, who said: 'It's deeply complacent and out of touch for the Tories to try and claim this deep-seated cost-of-living crisis has suddenly been solved."
Ministers are not unaware of Labour's argument that while rising wages maybe welcome, there is a huge amount of ground to catch up. People will still be worse off in 2015 than they were in 2010, Labour claim, and many are not feeling any recovery in their pockets.
There is also a discreet attempt by Labour to change the terms of the cost of living debate. It is, the shadow chancellor Ed Balls claims, not just about the relationship between two sets of figures. It is, he says, now also about job insecurity, about who is not benefitting from growth and about a lack of balance in the economy with rising house prices but low investment and exports.
So the political debate about the economy is shifting as the figures improve.
Labour faces the challenge of having to find something to say about the economy that is more than the cost of living. And the Conservatives need to work out how to benefit politically from an improving economy because at the moment they appear to be presiding over a vote-free recovery.
On both of those challenges, much will depend.