10 sartorial moments that tell us a lot about politics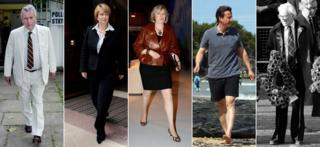 Does a politician's appearance influence what voters think of them? Here are 10 moments that suggest that dress is important.
It's the Easter holiday and Prime Minister David Cameron has been taking his break in Lanzarote. But attention has turned again to his leisurewear. This week Quentin Letts in the Daily Mail said the PM's loafers gave him "beige-ja-vu" and concluded: "The best thing that can perhaps be said about them is that at least Mr Cameron wore them without socks."
But why does it matter? Does a politician's appearance influence what voters think of them? Here are 10 moments in fashion history that politicians might like to take note of before picking out their latest outfit.
1. Margaret Thatcher's handbag
Before taking office, Margaret Thatcher famously received image coaching, co-ordinated by television journalist Gordon Reece. It has often been said that her voice became deeper and softer, and her distinct dress sense was set in stone. She didn't take every piece of advice, hanging on to her pearls despite the suggestion that they were too "suburban" and of course her handbag - which became a symbol for her stern treatment of underlings.
2. Michael Foot's donkey jacket
Michael Foot is probably the party leader who suffered most from barbs over his appearance. His attire at the Cenotaph for the Remembrance Day service in 1981 provoked derision from newspapers and fellow politicians alike.
The Times' diarist Michael Horsnell described Foot as being "dressed as if he had just returned from walking his dog on Hampstead Heath, in green donkey jacket, sneakers and Paisley tie". The then Labour MP for Derby South, Walter Johnson, was reported to have called on the Parliamentary Labour Party to reprimand Foot for looking like "an-out of-work navvy" and showing "gross discourtesy to the servicemen he was supposed to be honouring".
Foot later discussed the wave of caricatures that followed, admitting: "I never dreamt this was going to cause such trouble." He said the Queen Mother had indicated her approval, remarking: "That's a lovely warm coat you've got on".
The former Labour leader is not the only MP to have flown in the face of fashion. Minister-without-Portfolio Ken Clarke has long been synonymous with comfort rather than cutting a dash, because of his perpetually crumpled suit and longstanding attachment to Hush Puppies shoes.
Ex-Scotland Secretary Donald Dewar was noted for his refusal to take part in the New Labour makeover. "Now I know what it feels like to be a horse," he declared in Glasgow in May 1999, ahead of the first Scottish Parliament election after devolution, "because these days I'm constantly being groomed."
A tribute in The Herald following Dewar's death described the idea that he would allow himself to be reinvented as "risible". The report cites Ron Ferguson, minister of St Magnus Cathedral in Kirkwall, as calling him "a spin-doctor's worst nightmare". Although his suits were expensive, says Ferguson, somehow he managed to make them look as if he had slept in them.
3. William Hague's baseball cap
Michael Foot's cautionary tale of how a single sartorial misstep could become a lightning rod for a more general deluge of mockery was not heeded by former Conservative leader William Hague. Shortly after taking the helm of the party in 1997, William Hague was skewered in the media after wearing a personalised baseball cap on a visit to a theme park.
Perhaps his advisers had thought it would be a good way of drawing attention to his youthfulness and suggesting the new leader was "down with the kids". If so, it did not have the desired effect. Writing in the Daily Mail, Simon Heffer let it be known the new leader "looked like a child molester on a day release scheme". It became - along with an ill-fated appearance at the Notting Hill festival in blue shirt and chinos - a defining image of his period as leader.
4. Tony Blair's sweat-stained shirt
No relationship between image-makers and politicians has perhaps been more scrutinised than that between the Labour leader who took the helm in 1994 and his spin doctors. As Labour got rid of "relics" like Clause IV's commitment to public ownership, it also consigned Michael Foot's duffel coat to the back of the wardrobe. Under Peter Mandelson's tutelage, it was sharp suits only for Neil Kinnock - and then for Blair and his "babes," as the press dubbed the influx of female Labour MPs in 1997, to their annoyance.
At Labour's party conference in 2000, Tony Blair warmed to his keynote speech a little too readily and his shirt became visibly drenched in sweat. The Evening Standard was on hand to advise that he had "broken the golden rule of never wearing a blue shirt in a hot room", while the Guardian reported the address was "more perspiration than inspiration". The incident was a particular gift for columnists because of the Labour leader's reputation for having his every movement closely stage-managed.
Politicians have to think before they dress because of the role of television in communication with the voter. Flashy jewellery can be distracting while some patterns can flicker or bleed under the bright lights of a studio. Conservative Baroness Fookes, an MP for 27 years, recalls the impact that the introduction of cameras to Parliament had on members' dressing habits, reporting that it meant "the men wore brighter ties, and the women wore brighter colours".
5. Theresa May's leopard-print heels
Coverage of Theresa May's warning in 2004 that the Conservatives were seen as "the nasty party" was almost matched by the column inches devoted to her footwear - a pair of leopard-print heels. It's one of those episodes that have led to criticism of the media focus on presentation. Mary Macleod, a Conservative MP involved in encouraging women to stand for her party, has called for an emphasis on "views not shoes".
She denies that image has a bearing on the job: "I don't think dress tells you much about a politician, just an insight into their interest in fashion." But Kirsty Walker, former political correspondent for the Daily Mail and associate director of iNHouse PR, says fashion can have a bearing on politicians' standing. "The way that politicians present themselves and the choices they make in their own lives can say a lot about their personalities - especially when political images are so carefully cultivated," she argues.
Walker points to the recent MBE awarded to David Cameron's barber, which, she says, "triggered accusations of political cronyism and criticism that Mr Cameron is out of touch with ordinary voters who cannot afford to pay £90 for a haircut". Similarly, Isabel Hardman, assistant editor on the Spectator, contends that attention falls on those who court it, and if the home secretary chooses a stand-out wardrobe she should expect people to write about it. "When you wear a stained-glass jacket or tangerine suit I'd be surprised if people didn't comment."
6. Jacqui Smith's low neckline
Jacqui Smith, the UK's first female home secretary, was lambasted by the papers for appearing at the despatch box with what they judged to be a risque neckline. It prompted her to tell BBC Woman's Hour in 2007 that journalists were "obsessed" with her clothes and cleavage, and needed "to get over themselves".
Laura Bates, who runs the Everyday Sexism campaign, is concerned that this type of commentary persists. "When a young woman sees a female politician being lambasted because of her looks and a male politician being taken seriously as his policies are debated, it sends her the message that politics is not for her, and that if she goes into it, she will have her looks scrutinised in a painfully public way at every turn," she warns. Bates is convinced that different standards are applied to male and female politicians when it comes to the way they look.
"You only have to glance at the coverage of a new cabinet, or a party conference, to see that the media reporting on male politicians is focused on their policies and ideas, while female politicians are often reduced to their haircut or shoes alone," she says.
That view is echoed by Lib Dem peer Baroness Williams, who first entered the Commons in 1964. She has previously said that reporters were obsessed with her hair. "How women dress, how women sit, what they're wearing, are things the press pick up in a big way, in the case of men hardly at all," she emphasises. "Almost no woman MP gets away without there being comment on what she's wearing, what she looks like, what her figure's like and so forth."
Dr Carolyn Mair, a reader in psychology at the London College of Fashion, maintains there is evidence to back up the impression of double standards. She points to to the Huffington Post's 2010 reader surveys on the best-dressed male and female politicians, which received three times more votes for women than for men, concluding: "Women's clothes get more media coverage, and are judged more often."
Others maintain there are reasons behind the distinction which have nothing to do with sexism. According to Hardman, "as a rule, women have more exciting clothes - attention is turned on those who stand out".
Despite the apparent difference in attention, there is a way not to stand out, says Macleod. "You can't go far wrong in a suit and tie. It's the same for female politicians who dress in a simple, professional, understated way. They are less commented on."
7. David Cameron's blue polo shirts
While Michael Foot was pilloried for straying too far from the done thing, David Cameron has been criticised for the precise opposite - being too safe in his choice of holidaywear.
Whether you're in Tuscany or Torquay, no fashion choice is immune from comment - even if you opt for a plain, dark polo shirt. The Daily Telegraph has diagnosed David Cameron as being in a "style rut" over his trademark off-duty look, while the Daily Mirror published a series of "postcards" from his holidays in which the offending shirt features heavily.
On this point, Hardman draws a distinction between the interest of the press and that of the general public. "Cameron's wardrobe is full of black polo shirts because that's what it's 'safe' to be photographed wearing on holiday. They over-think it because they know newspaper picture editors care about it, but picture editors probably care a lot more than most people."
8. Caroline Lucas's slogan T-shirt
The 2004 edition of Erskine May, the official parliamentary rule book, states: "Members are not permitted to wear decorations in the House. The wearing of military insignia or uniforms inside the chamber is not in accordance with the long-established custom of the House."
It was this convention that led to Green MP Caroline Lucas being upbraided for wearing a T-shirt bearing the slogan "No More Page Three" in a Westminster Hall debate.
Parliament's own guide to customs in the chamber points out that the Speaker has "on a number of occasions, taken exception to informal clothing, including the non-wearing of jackets and ties by men". Former Conservative MP Baroness Fookes stresses that MPs have always had to give consideration to the way they dress. Nancy Astor, the first female MP to take her seat, stuck to monotone colours - white shirts with black or grey jackets - to "mirror" the outfits of her male counterparts so that she could blend in.
Back then, the Commons was a more uniform place in every sense. Suits were the order of the day, but a House of Commons spokesman now says the dress rules for the Commons were and remain quite vague. Men are not allowed to speak in the chamber while wearing a hat. However, until 1998, MPs wishing to raise a point of order during a vote had to wear a hat - a collapsible top hat was kept in the chamber in case it was needed.
Baroness Fookes has been on hand to call MPs out on any lapse of decorum. She recalls chairing a committee meeting on a hot summer's day when male MPs present had elected to take off their jackets - which can be permitted at the discretion of the chair. They then proceeded to roll up their sleeves. This she deemed to be out of order - and told them so.
9. Keir Hardie's cloth cap
Keir Hardie, the first Independent Labour Party MP, caused a stir on his entrance to the House of Commons in 1892. The Times reported he "walked up the floor of the House to join the throng with a light-coloured cloth cap on his head. He was immediately called to order, however, and on his attention being brought to the breach of the rules of the House he at once uncovered his head".
His dress was ruled out of order since other MPs wore top hats. Although Mr Hardie complied, he continued to stand out from the crowd by sporting a tweed suit in a sea of black frock coats. The incident gave rise to the description of his brand of politics as "cloth-cap socialism".
Parliament has had its modern rebels too - John Bercow is the first speaker to insist on wearing lounge suit as opposed to the traditional black-and-white regalia. And Gordon Brown raised a few eyebrows when he eschewed the formalities at the Lord Mayor of London's Mansion House dinner as chancellor. He stuck to his lounge suit despite the white-tie dress code - later relaxed to black tie - but eventually, as prime minister, he capitulated and donned a penguin suit in 2007.
10. Martin Bell's white suit
Martin Bell originally began wearing his distinctive white suit as a BBC journalist during the 10-day Slovenian war in 1991. As he wrote in his memoir, In Harm's Way, it was a way of reclaiming his status as a civilian: "The suit made a statement: this man isn't part of anyone's army, and definitely doesn't do trenches."
The suit stood him in good stead in 1997 when he decided to run for Parliament in the Cheshire constituency of Tatton as an independent "anti-sleaze" candidate. The idea was to unseat Conservative Neil Hamilton, who faced allegations he had taken money in return for asking questions in the Commons. When he won the seat with a majority of 11,000, the white suit became a symbol for purity of motive.
It's a good example of an MP becoming synonymous with their wardrobe. On this point, Dr Mair from the London College of Fashion argues that, not only does presentation influence what voters think of politicians, but it can influence politicians' own behaviour.
"What we wear makes a difference to our own cognition," Dr Mair says. "Wearing a formal suit might actually make someone behave differently; speak more formally."
Follow @BBCNewsMagazine on Twitter and on Facebook