Labour's High Street champion awaiting Miliband meeting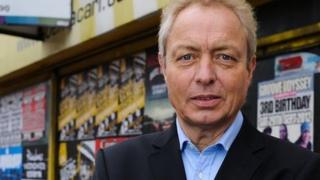 Bill Grimsey, who was appointed to Labour's High Street Advisory Group in January, has said he has yet to meet party leader Ed Miliband.
In an interview for BBC Radio 4's PM programme in May, Mr Grimsey said he was seeking an "urgent" meeting with Mr Miliband to discuss his ideas.
They have still not met, he said on Tuesday, but his group had now presented its findings to the party.
The ex-Wickes boss called Mr Miliband "very bright", with "the right values".
In the Radio 4 interview with reporter Becky Milligan, Mr Grimsey said he needed to challenge the party leadership on "whether the policies are developed yet".
'Passion and fire'
"I need a meeting with Ed at some stage, which will happen. I have said this is urgent," he said.
"I'm sure he'll respond. He's a busy guy, he's got lots to do, hasn't he? I need to look him in the eye and see that passion and that fire."
In January, Labour said "retail champion" Mr Grimsey would join the new advisory group, which was to help shadow business ministers and Labour's communities and local government team to establish "how best to support high streets".
The team would go on a "national tour", it said.
"Members of the Advisory Group will be looking at successful examples of high street rejuvenation and entrepreneurial activity across the country," the party added.
Labour's shadow business secretary Chuka Umunna said: "Bill Grimsey and other members of our advisory group will bring huge experience and help us listen to as many businesses as possible about what they need to grow and how we can support the high street."
Mr Grimsey said this was his "first interface with the political world".
"As a retailer, and a businessman, I'm used to a highly disciplined environment where you set the vision and a goal and you put a timetable together, you put various actions in palace and you meet regularly and you control things and you make things happen," he explained.
'Opportunity for Labour'
Asked whether this was like politics, he said: "No, not like politics at all, from what I've seen so far.
"It's alien to me. I'm willing to learn. I suspect however that the basics of goal-setting, measurements, timetables, rigour, is actually what politics could do with."
Mr Grimsey said that Labour had an "opportunity" to define itself as the party of business.
He added: "I do think that the politicians need to listen to what is being said by the electorate. They're tired of the politicians. And I do think that politics would be improved if more people with a practitioner background went into politics later in life. So I'd like to see that change."
In 2013, the former chief executive of Wickes and Iceland launched what he described as an "alternative review" of the High Street, aiming to rival the government's flagship initiatives led by retail expert Mary Portas.
He put together a small team of experts to come up with new ideas.
"Town centre/high street plans must encompass a complete community hub solution incorporating: health, housing, education, arts, entertainment, business/office space, manufacturing and leisure," they concluded.