Nick Clegg backs new council tax bands for priciest homes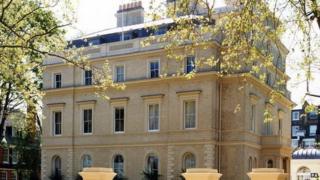 Nick Clegg has insisted that a Liberal Democrat plan to introduce higher council tax bands for expensive properties is "fully deliverable".
He said the principle would be in line with the party's longstanding proposal for a "mansion tax" on properties worth more than £2m.
The deputy prime minister said the council tax plan had been "scrutinised" and would create a fairer system.
The Conservatives have rejected the idea of a mansion tax.
In recent days it has been reported that the Lib Dem Chief Secretary to the Treasury Danny Alexander found the idea of bringing in a new mansion tax too bureaucratic and unwieldy, and instead wanted to introduce new council tax bands for properties valued above £2m.
'Encouraged'
Speaking at his monthly press conference, Mr Clegg said: "Danny has made sure it's been properly scrutinised by the Treasury so it's fully deliverable."
On the mansion tax, he said: "A couple of years ago we came close to an agreement in the coalition on proceeding with that kind of approach, but the Conservatives decided not to go ahead with it in the end."
The council tax plan would create a "fairer" system than at present, he argued, adding that Lib Dem members would be "encouraged" when they saw "a Liberal Democrat minister saying how to do this and it's credible because we've worked it out in government".
Currently the highest council tax band in England - band H - applies to properties valued at more than £320,000 in 1991.
This, the Lib Dems say, means that - even given house price inflation since then - owners of the highest-value homes are not charged enough.
It is thought about 80,000 homes are currently worth more than £2m.
In the 2012 Budget, the coalition raised stamp duty on sales of properties with a higher value than this to 7%.
Opponents of a mansion tax say it will not raise enough money to be worthwhile, while others argue it is an unfair imposition on homeowners who have already paid out more in stamp duty and on mortgages.