Ed Davey urges EU to lead climate change fight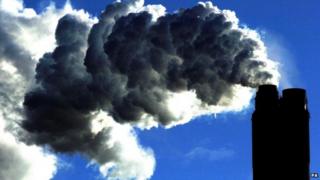 The European Union must do more to lead worldwide efforts to limit climate change, the UK government has said.
Speaking after the UN urged moving from fossil fuels to renewable sources, Climate Change Secretary Ed Davey said other countries must try to be as "ambitious" as the UK.
It was possible to make such changes in a "cheap" way, he told the BBC.
But Labour said there had been a "decline in investment in green energy" under the coalition government.
The long-awaited UN report on how to curb climate change said the world must rapidly move away from carbon-intensive fuels.
There must be a "massive shift" to renewable energy sources such as wind and solar, it argued, saying natural gas was an important stage in a movement away from oil and coal.
'Stark warning'
The report is the work of the UN's Intergovernmental Panel on Climate Change (IPCC), which was set up to provide a clear scientific view on climate change and its impacts.
Mr Davey told the BBC he "strongly" agreed with its findings, saying the UK government had doubled the amount of electricity generated from renewable sources in recent years.
He added: "We've got to do more and we've got to do more to work with our international partners."
Mr Davey also said: "I want other European countries to be more ambitious... We can go green and we can do it in a cheap way. The cost of renewables has been coming down significantly."
He also said: "The message of this report is clear. Greenhouse gas emissions have accelerated in recent years due to human activity.
"We need a large-scale change to our global energy system if we are to limit the effects of climate change. The longer we leave it, the more difficult and costly it will be."
Several backbench Conservative MPs have raised doubts over renewable sources of energy, saying they are inefficient and will not give an adequate supply.
Asked whether disagreements between the coalition parties were impairing support for a move toward renewables, Mr Davey, a Liberal Democrat, said: "In the overall piece, Britain has more consensus between our political parties than any other country."
Maf Smith, deputy chief executive of industry body RenewableUK, said: "When it comes to taking practical action against carbon emissions, the most useful tool in the kit is wind energy.
"It's the most developed renewable technology we have, providing more than half the low-carbon electricity we generate in the UK."
For Labour, shadow climate change secretary Caroline Flint said: "This report provides overwhelming and compelling scientific evidence that climate change will have a devastating impact if urgent action is not taken to reduce our carbon emissions and invest in clean energy.
"That's why the next Labour government will set a decarbonisation target for the power sector for 2030, unshackle the Green Investment Bank and reverse the decline in investment in clean energy we have seen under David Cameron."