Councils hustled over housing, says National Trust chief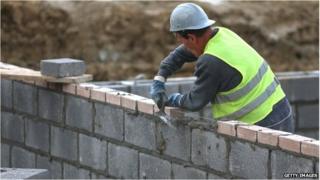 Councils are being "hustled" by the government to produce local plans quickly to meet housing targets, the head of the National Trust has said.
Dame Helen Ghosh said "pressure" meant some English local authorities felt they had to allow greenfield building.
The trust was monitoring the situation and "making appropriate representations to government about it", she said.
But the government said it valued and protected the countryside and councils had had a decade to come up with plans.
Greenfield sites are defined as places which have not previously been built on, including greenbelt land around cities. Brownfield sites are those which have previously been developed.
In 2004, the Labour government introduced local plans, requiring councils to set housing targets and identify a rolling five-year supply of developable land.
And, in April 2012, planning law in England was further changed to speed up decisions, with a "presumption in favour of sustainable development" unless negative considerations "significantly and demonstrably" outweigh positives.
'Just too short'
Director-general Dame Helen said the National Trust - a charity which works to protect historical sites in England, Wales and Northern Ireland - was "very concerned" about the level of pressure on councils.
"We are very concerned that the haste with which local authorities - some of them ill-prepared to do so - have been hustled into producing their local plans, and the pressure they're under to produce the number of houses has forced them, in some cases, to designate greenfield sites," she told BBC Radio 4's The World this Weekend.
"We are very worried about that and we are monitoring it - and making appropriate representations to government about it."
Dame Helen said the trust had previously argued that giving councils a year to produce a local plan was "just too short" and events since had proved councils "need to take longer to do these things properly".
But she said there had been "some positive signs recently" when the government had said incentives for developing on brownfield sites would be increased.
"We were encouraged by that but we are still very worried about the number of potential planning permissions that are out there on greenfield sites," she added.
In response, planning minister Nick Boles said: "This government values and protects the countryside."
Greenbelt development had fallen "to its lowest rate since modern records began" under the coalition, he added.
Mr Boles also said: "Councils have had a decade to shape where development should and shouldn't go through their local plans. So far, three quarters of local authorities have published a draft plan, and local residents should hold slow-coach councils to account."
The Local Government Association, which represents 350 English councils, said councils were "making good progress with getting complex and detailed local plans in place".
"The most important thing will always be getting them right and ensuring people have a real say in developments that can support growth in their areas," a spokesman said.
Fracking and floods
During the interview, Dame Helen also criticised comments made earlier this year by Environment Agency chairman Lord Smith, suggesting flood defence planning involved "tricky issues of policy and priority" about whether to protect "town or country, front rooms or farmland".
She said it was "dangerous and unnecessary to paint it as a black-and-white argument", adding that there should be a "national debate" on flood defence planning.
On the issue of hydraulic fracturing - or fracking - where rock is drilled to release gas, she said the trust would "undoubtedly say no" to a request to frack on its land at present.
It has already said it maintains a "presumption" against the technology.
"We would need very convincing assurances about environmental impacts, very tight regulation around the kinds of assessments that would take place before we would ever consider fracking on our land," Dame Helen said.