George Osborne hails UK growth in Washington speech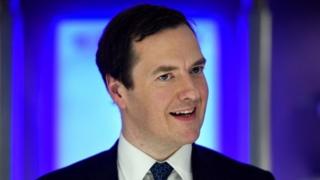 Chancellor George Osborne has hailed the UK's economic recovery in a keynote speech in Washington DC.
Mr Osborne said critics of the government's economic plan have been proved "comprehensively wrong".
His speech comes a year after the International Monetary Fund said Mr Osborne's austerity policies were "playing with fire".
Labour said Mr Osborne was "out of touch" with the millions of people in the UK facing a cost-of-living crisis.
Speaking while in the US capital for the spring meetings of the IMF and World Bank, the chancellor said that cutting deficits and controlling spending had "laid the foundations for sustainable growth".
'Credible'
Mr Osborne admitted "many risks remain" but said there was cause for "cautious optimism".
"It's only by continuing to work through our long-term economic plan that we can deliver more economic security and a brighter future for all," he said.
His visit comes after the latest IMF forecasts predicted the UK would be the fastest-growing major economy this year.
Mr Osborne used his keynote speech to reject the arguments of the IMF's chief economist, Olivier Blanchard, who warned last year that the UK's austerity policies were strangling growth.
And the chancellor also dismissed suggestions that the West is locked in a cycle of economic stagnation, declaring: "Our nations' best days lie ahead."
He said that the strengthening economy in Britain is underpinned by well-capitalised banks and a "credible" fiscal policy.
"Our economy has grown faster than any other in the G7 over the last year and is now forecast by the IMF to do the same in 2014," Mr Osborne said in his address to the American Enterprise Institute think tank.
'Wrong prescription'
"This is despite warnings from some that our determined pursuit of our economic plan made that impossible.
"All of this demonstrates that fiscal consolidation and economic recovery go together, and undermines the pessimistic prognosis that only further fiscal stimulus can drive sustainable growth.
"Indeed, that is precisely the wrong prescription for our economies.
"Instead of more debt or more government spending, we need to get our public finances in order, make structural reforms and compete in the world again."
But Chris Leslie, Labour's shadow chief secretary to the Treasury, said: "The last thing millions of people facing a cost-of-living crisis want to hear is an out-of-touch chancellor trying to tell them everything is going well.
"In 2010 George Osborne promised sustained rises in living standards, a secured rather than choked-off recovery and the books balanced by 2015. On every single pledge he has badly failed."
Mr Leslie said Labour's plans would "boost living standards for all" and "secure a strong and balanced recovery".