Labour leader Ed Miliband visits Israel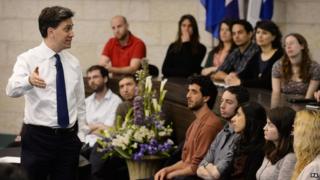 Labour leader Ed Miliband has said during a visit to Israel that he is a supporter of "the homeland for the Jewish people".
Taking questions at the Hebrew University of Jerusalem, he said he had "a deep sense of gratitude to Israel for what they did for my grandmother".
She survived the Holocaust in Poland before emigrating to the country.
But Mr Miliband said he did not support everything the Israeli government did, criticising the growth in settlements.
Israel captured East Jerusalem from Jordan in the 1967 Middle East war and formally annexed the area in 1980.
Settlements built there and elsewhere in the occupied West Bank are considered illegal under international law, though Israel disputes this and continues to approve the construction of new settlement homes.
Although the Labour leader is of Jewish descent, he told the BBC in 2010 that he does not believe in God. "I have great respect for those people who do," he added.
He paid his respects at the memorial to the Jewish victims of the Holocaust, Yad Vashem, and has held meetings with Justice Minister Tzipi Livni and Prime Minister Benjamin Netanyahu.