Theresa May under fire after 'damning' verdict on asylum policy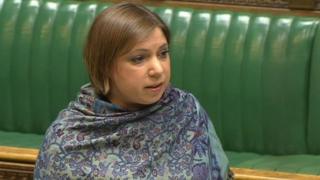 A recent "damning" High Court verdict shows how the government is pushing asylum seekers into "severe poverty", Lib Dem MP Sarah Teather has said.
On Wednesday, judges ruled that ministers had acted unlawfully by freezing the level of financial support they make available for asylum seekers.
Ms Teather alleged that Home Secretary Theresa May's calculations were driven by "base political motives".
But minister James Brokenshire said the level of support was not "ungenerous".
Ms Teather was granted the opportunity to question the government on the ruling after Commons Speaker John Bercow approved her request for an urgent question.
Mrs May was not present in the chamber to hear the criticism, having delegated the response to immigration minister Mr Brokenshire.
'Exacerbating trauma'
The Lib Dem MP for Brent Central and former children's minister told MPs: "The minister is correct of course that the judgement did not make any comment about the generosity of the levels, but it was absolutely damning about the process the home secretary had been using in order to come to her decision.
"She had misunderstood or misapplied information, she didn't know or ignored basic aspects of her government's education policy, she failed to gather sufficient information and has been told to go away and do the whole thing again.
"Isn't the problem here that this decision is effectively the personal fiefdom of the home secretary and, driven entirely by base political motives, she can and does ignore detailed representations by other ministers around government?
"She can and does ignore parliamentarians, including the findings of a cross-party inquiry that I chaired last year.
"She can and does ignore the pleas of those who work with victims of torture, who say that she is exacerbating their trauma and forcing them into very severe poverty."
The Lib Dem MP concluded by urging the government to reconsider the ban on asylum seekers taking up employment while their claims are being processed.
"Half of this agony would be avoided if his government allowed asylum seers to work and pay their own way as many of the highly skilled individuals who come here seeking sanctuary are desperate to do," she said.
But Mr Brokenshire argued that the cash allowances made available to asylum seekers needed to be considered in the context of "the overall support package", which included accommodation, gas, electricity, and water provided free of charge.
A family of two adults and two children would receive approximately £180 a week as part of this package, he said.
There had been a "full review" of the payments in June 2013, which concluded that the levels at which they had been set "were sufficient to meet living needs", Mr Brokenshire added.
'Bare minimum'
He told MPs that the court had not ruled that the payment levels were too low.
Rather, he said, it had found "some errors" in the process of determining the levels, such as failing to define cleaning products and non-prescription medicines as essential items.
The government is considering whether to appeal against the judgement.
Mr Justice Popplewell, sitting in London, had ruled: "In my judgement, the information used by the secretary of state to set the rate of asylum support was simply insufficient to reach a rational decision to freeze rates."
In what charities working with asylum seekers welcomed as "a landmark ruling", he ordered Mrs May to reach a new decision by 9 August.
The judge ruled freezing payment levels amounted to "a reduction in real terms from what was regarded in 2007 as the bare minimum level necessary to avoid destitution".
The legal challenge was brought by Refugee Action, which said the home secretary had set a "cripplingly low level of financial support" for more than 23,000 people, many of whom were living in poverty and isolation.
Ms Teather, who left the government in a 2012 reshuffle, has previously described the government's plan to cap benefits payments as "immoral", and likely to have a "horrible" and "traumatic" impact in areas like the north London seat she represents.