MPs 'secretly hiring unpaid interns'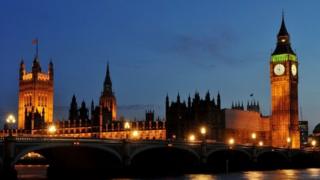 MPs scared of negative publicity are "secretly" recruiting unpaid interns to work in their offices, it is alleged.
Charles Glover, an aide to Lib Dem MP John Leech, made the claim while defending his boss, who has come under fire for advertising eight unpaid roles.
Campaigners say some MPs are exploiting people by not paying the minimum wage.
But Mr Glover says interns gain valuable experience that helps them get paid jobs at Westminster.
The number of MPs advertising for unpaid office staff on the official Commons job board W4MP has dramatically fallen in recent years after a spate of negative publicity.
'Pushing down wages'
The expenses watchdog, the Independent Parliamentary Standards Authority (IPSA), has tightened up its guidance, with MPs now told anyone working for them must be paid the national minimum wage, and that only genuine volunteers can support them unpaid.
Mr Glover said MPs could not afford to pay all the staff they need, and previous applicants from humble backgrounds had gone on to forge careers in politics, after he was criticised by campaigner Tanya de Grunwald on her Graduate Fog blog.
He said Mr Leech was being open about his recruitment of unpaid staff - in contrast to other MPs, who were recruiting people "secretly" because they were worried about a media backlash.
Campaigns against unpaid interns were driving the recruitment process underground, further entrenching the Westminster "closed shop" that voters say they hate, he argued.
"People are applying directly and getting taken on directly," he told BBC News.
"I know it happens. I know people that it has happened to. But they are loath to say it in public. I also know it is being used to push down wages.
"People who used to get a Westminster wage are now getting a minimum intern wage."
'Can-do attitude'
In his advert, Mr Leech, the Member for Withington, in Manchester, offered full-time roles for three months or 12 months part-time, to include training in everything from speechwriting and media work to managing the MP's diary.
It called for "computer and writing skills", an "energetic can-do attitude" and "excellent interpersonal skills and a sense of humour".
But it also stressed that it was a voluntary role and "as such there are no set hours and responsibilities, and you should be free to come and go as you wish".
Kelley Ireland, 22, a paid parliamentary aide to Lib Dem peer Baroness Williams, said she had got her foot on the Westminster career ladder by answering an advert for an unpaid volunteer in Mr Leech's Manchester office.
Ms Ireland, who says she did not come from a political family and attended a state school, worked as a carer to support herself while volunteering for a year at Mr Leech's Manchester and London offices.
"I was just so glad to have the opportunity to work in his office, and I was willing to work in the evenings and at weekends in order to do that, and I didn't ever begrudge him for that. I learned so much in that period," she told BBC News.
She said MPs should be paid a greater staff allowance to allow them to pay their interns - otherwise interns would increasingly be recruited "in secret" without a public application process.
"There's quite a few people I know within Westminster now who are doing internships purely because of who they know and because they know someone in that office. They come in one day a week, or several days."
She said unpaid internships were not being advertised in the way they had been in the past because they are seen as "toxic".
But she added: "You need the experience to get a paid job."
'Exploitation'
Tanya de Grunwald, who first reported Mr Leech's latest job ads, placing them on her blog's Ultimate Wall of Shame - said there could be no excuse for not paying workers.
"The claim that many of Leech's fellow MPs are now hiring unpaid interns secretly is shocking - but so is the claim that their grubby behaviour is somehow the fault of campaigners like me," she told BBC News.
"MPs, including Leech, must understand that the law is the law - and public opinion is against them on this one."
She added: "Unpaid internships exploit those who do them and exclude those who can't afford to do them. End of story."
Former Labour minister Hazel Blears has called for unpaid internships to be made illegal.
A spokesman for the Salford and Eccles MP said she had not been made aware of any MPs attempting to get round the rules by recruiting interns informally.
"If it was happening, that would obviously be a concern. But it does not mean that we should allow the potential exploitation of people.
"You have got to deal with one problem at a time."
He said some people may be able to support themselves financially while working in an MP's office but many more would not be able to and would, therefore, be excluded from a career in politics.
Ms Blears is encouraging people of all ages to apply for a paid internship in Parliament through the cross-party Speaker's Parliamentary Placements Scheme, which is backed by commercial sponsors including Royal Mail and construction company CH2M Hill.