Will David Cameron pay a price for Maria Miller loyalty?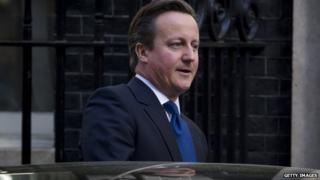 Sometimes loyalty does you no favours.
For the past week, David Cameron has continued to defend Maria Miller, even while the clamour for her to be sacked grew daily.
Now she has decided to go, the criticism of the prime minister has not abated.
In the Commons, Labour leader Ed Miliband accused him of not "getting" the scale of public anger over parliamentary expenses.
He railed at the prime minister over a "terrible error of judgement" in supporting Mrs Miller.
But, the PM noted, Mr Miliband and his colleagues had stopped far short of calling for the beleaguered culture secretary to quit when she was still in her job, accusing them of jumping on the bandwagon after the circus had left town.
Lose-lose?
It all goes to prove - if further proof be needed - that no one wins when it comes to expenses.
Five years after the biggest political scandal in generations hit Westminster, destroying many a career, there is still a visceral anger towards MPs among many voters.
Whether an MP is found is guilty or not the public attitude is always scathing.
You only need to listen to a radio phone-in to gauge the feeling "out there".
Given all this, should the prime minister have seen this coming, put his loyalty aside and pushed for Mrs Miller to go much sooner?
I suspect it was always going to be a lose-lose situation for Mr Cameron.
If Mrs Miller had stepped down from the cabinet last week, we would have seen headlines like "Another expenses scandal hits the Conservatives" and Labour would have made the case that it was the "toxic Tories" giving all politicians a bad name.
As it was, loyalty has done Mr Cameron no favours and tomorrow's headlines are likely to be damaging for him.
But, as the PM said, it was noticeable that when Mr Miliband was asked about the issue on Tuesday he did not suggest Mrs Miller should go.
Of course it is in the Labour leader's interest to make the Miller story one about the PM's lack of judgement, rather than the expenses themselves.
That way, he can make a party-political point without reminding voters that the scandal was one which affected all sides.
This sorry seven-day saga shows there is still a very long way to go before politicians regain trust.