Cameron faces questions over Maria Miller expenses row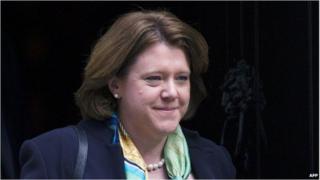 David Cameron is set to face MPs' questions about Culture Secretary Maria Miller amid a row over her expenses.
Mr Cameron will attend Prime Minister's Questions at noon on Wednesday before a meeting of the influential Tory 1922 Committee of backbenchers hours later.
Mrs Miller has been criticised over her expenses claims and the 32-second apology she made to MPs last week.
Leader of the Commons, Andrew Lansley, defended Mrs Miller, saying she had "made the apology that was asked for".
'Let you down'
Mrs Miller issued another apology in a column in a local newspaper in her constituency for the way she the way she approached parliamentary standards commissioner Kathryn Hudson's investigation into her accommodation expenses.
She wrote in the Basingstoke Gazette: "I have unreservedly apologised for the way I handled and approached the inquiry. I am devastated that this has happened, and that I have let you down."
Mr Lansley said Mrs Miller's apology for her behaviour towards the Standards Committee was agreed with the Commons speaker and it would not have been appropriate to have elaborated.
He told the BBC's Newsnight he "hoped" his Conservative colleague would keep her job.
Former Commons speaker Baroness Boothroyd said it should be a "matter of honour" for Mrs Miller to resign.
Lady Boothroyd said: "She is bringing Parliament into disrepute. I think the vast majority of people in this country, if they were asked, would have the same feelings that I have."
BBC political correspondent Chris Mason said after the two forums on Wednesday, the Easter recess would be just a day away with at least the potential of some respite for the culture secretary.
The question now was for how long, with a reshuffle expected after the local and European Parliament elections next month, he added.
Damaging distraction
Mrs Miller was cleared of funding a home for her parents at taxpayers' expense, the central charge against her, following an investigation by the independent parliamentary commissioner for standards.
But the watchdog criticised her "attitude" to the inquiry and recommended she repay £45,000, the amount it believed she had overclaimed in expenses.
The Commons Standards Committee, which has the final say on disciplinary matters, disagreed and decided she had overclaimed by £5,800 and should repay this amount.
This decision sparked a backlash across the political spectrum and calls for changes in how complaints against MPs are investigated.
Mr Cameron and London Mayor Boris Johnson are among those to have backed Mrs Miller while the minister's parliamentary aide, Mary Macleod, accused the media of a "witch hunt" against her.
Several Tory MPs have expressed concerns that the saga is proving a damaging distraction as they campaign for local council and European Parliament elections next month.