Irish president hails 'warm and enduring' ties with UK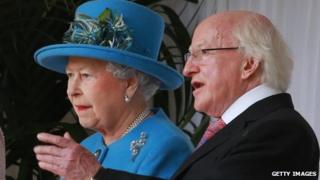 Irish President Michael D Higgins has hailed the "warm, deep and enduring" links between Britain and Ireland in a special address to Parliament.
Mr Higgins, who is making an historic state visit, said the two countries were friends as well as partners, united by "strong and resolute" ties.
Northern Ireland's transformation in the past 20 years was a source of "immense pride", he told MPs and peers.
A state banquet in Mr Higgins' honour will be held at Windsor Castle later.
Mr Higgins is Ireland's first head of state to be invited to the UK on a state visit and the first to make a speech to both Houses of Parliament.
His four-day visit follows the Queen's successful state visit to Ireland three years ago.
'Long shadow'
Reflecting on Britain and Ireland's shared history, and the legacy of past conflicts, Mr Higgins said the two countries had progressed from the "doubting eyes of estrangement to the trusting eyes of partnership and, in recent years, to the welcoming eyes of friendship".
While the fight for Irish independence from British rule in the early 20th Century had "cast a long shadow" over relations, they were now characterised by "mutual respect and co-operation" in which any differences were approached in a spirit of "respectful empathy".
"I stand here at a time when the relationship between our two islands has achieved a closeness and warmth that once seemed unachievable," he told an audience including Prime Minister David Cameron, the leaders of the other political parties in Westminster and dignitaries.
"We acknowledge that past but, even more, we wholeheartedly welcome the considerable achievement of today's reality... Her Majesty's visit eloquently expressed how far we have come in understanding and respecting our differences."
Reconciliation
Recognising the "indelible" personal and cultural links between the two countries, and the expanding commercial ties, Mr Higgins said the two countries shared, above all, a vision of citizenship "rooted in the principles of active participation, justice and freedom".
While hailing the progress made in bringing peace to Northern Ireland, he said challenges remained.
"There is, of course, still a road to be travelled - the road of a lasting and creative reconciliation.
"Our two governments have a shared responsibility to encourage and support those who need to complete the journey of making peace permanent and constructive".
'European identity'
Mr Higgins paid tribute to the thousands of Irish men and women who died in the First World War.
At a time when the future of the UK's relationship with Europe is a divisive issue in British politics, Mr Higgins said Ireland must be clear in asserting its own "European identity".
"It is an identification we proudly claim today, an identification we share with the UK, with whom we have sat round the negotiating table in Europe for over 40 years."
Speaking later after a personal meeting with Mr Higgins, Labour leader Ed Miliband said the improved relations between Britain and Ireland were a "direct result" of the peace process in Northern Ireland.
Mr Miliband said he reaffirmed his commitment to "continue to work with the Northern Ireland Executive and the Irish government to ensure we build a shared and prosperous future".