Ministers defeated in Lords over citizenship terror powers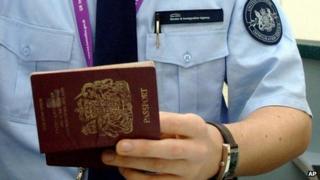 Ministers have lost a vote in the Lords over plans to allow terror suspects to be stripped of their citizenship, even if it they are left stateless.
The government was defeated by 242 votes to 180 as peers rejected planned changes to immigration laws.
Ministers want the power to remove the citizenship of a naturalised Briton acting in a way "seriously prejudicial" to the UK's national interests.
But peers said this was an approach used by "dictators and tyrants".
The defeat came as peers considered amendments to the government's Immigration Bill - which ministers hope will become law before the end of the parliamentary session next month.
MPs will have to decide whether to reinsert the provision when they next consider the bill.
'Weapon'
At present citizenship can only be removed if the person will not be left stateless. Peers said a parliamentary committee should consider any changes to current legal safeguards in detail before any action was taken.
"There are regrettably all too many dictators around the world willing to use the creation of statelessness as a weapon against opponents," said crossbench peer Lord Pannick, who led the opposition to the move.
"We should do nothing to suggest that such conduct is acceptable."
The peer said the proposal had only been added to the bill in recent weeks and was not included in the original text of the legislation when it was first published last year.
Labour peer Baroness Kennedy described leaving someone stateless as "repugnant", telling peers it was a "weapon used by tyrants and dictators".
'Perverse'
In response, Home Office minister Lord Taylor of Holbeach said any decision to strip someone of their citizenship would not be taken lightly and would only be used in a "limited and targeted way".
"There are a minority of individuals who choose to become a British citizen and then later seek to threaten our security, subvert our values and laws, and fight against our own armed forces," he said.
"It would be perverse if such people while attacking our forces or terrorising our civilians could invoke our protection."
He offered a number of concessions to critics of the proposal, saying an "independent reviewer" would oversee the new rules and report to Parliament within the first year after they took effect.
The defeat was the second suffered by the government on Monday, after peers earlier pushed for the appointment of guardians to help trafficked children.