Labour plan to 'bust open' Whitehall to 'working class'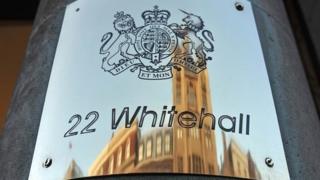 Black and working-class applicants would be fast-tracked to the top of the civil service if Labour wins the next general election, the party has said.
It has vowed to "bust open" what it says is the domination of Whitehall by a white, middle and upper-class elite.
It will aim to get 18% black and ethnic minority candidates and 24% "working-class" candidates into the Fast Stream graduate training programme.
The party has yet to discuss its proposals with civil service bosses.
But it says they will be included in Labour's 2015 general election manifesto.
Candidates will qualify as working-class if their parents are judged to have "routine" occupations, such as unskilled or semi-skilled factory work, according to Office for National Statistics socio-economic classifications, under the Labour plans.
'Closed shop'
The civil service recruits more than 300 high-flying graduates every year, for its Fast Stream programme, which aims to groom candidates for jobs running government departments.
But Labour says it is dominated by a narrow group of privately-educated Oxbridge candidates.
Shadow Cabinet Office minister Michael Dugher said: "Labour would make sure kids from working-class backgrounds can help run the country by busting open Whitehall.
"We want ordinary kids to have the chance to go to frontline government; from the classroom to the corridors of power.
"The civil service is like a closed shop, with fewer women, fewer ethnic minorities and fewer kids with working-class parents.
"Politics can often feel distant and remote from working people - Labour's answer is to put them at the heart of our system.
"We want a One Nation civil service which looks more like those it is intended to serve."
Mr Dugher is to announce the reform plans in a speech to the Institute for Public Policy Research (IPPR) think tank on Tuesday.
Labour would expand an internship scheme and reform the graduate recruitment process with the aim of increasing the number of successful candidates from working-class backgrounds from 2.4% to 24%.
'Global race'
This would add up to an extra 360 working-class candidates entering the Fast Stream over the course of the next Parliament, it says.
The target for black and ethnic minority individuals would be 18%, up from the current 9.8% - an extra 305 over the five-year Parliament.
Labour says reforming the Fast Stream would be the quickest way to change the culture of the civil service as a whole and encourage a more diverse range of applicants at all levels.
But the government said it was already trying to make it easier for candidates with non-traditional backgrounds to climb the civil service career ladder.
A Cabinet Office spokeswoman said: "To win the global race we need the best civil servants regardless of their background.
"This government's reform programme will ensure we have an exceptional civil service delivering high-quality public services more cheaply.
"As part of our reforms, we launched a new apprenticeship scheme to open up Whitehall to those without a degree.
"We know that for too long talent management in the civil service has been weak.
"That's why Francis Maude has commissioned research to examine the blockages preventing women from reaching the most senior levels of the civil service."
The Labour Party has also attempted to recruit general election candidates from a wider variety of backgrounds through its future candidate programme, amid fears it is losing touch with its working-class roots.
According to research by the House of Commons Library, there are now just 25 former manual workers on the Commons benches - 75% fewer than when Margaret Thatcher came to power in 1979. All but three are on the Labour benches.
The number of MPs with a professional background has gone down from 45% to 35% over the same period - but political advisers and other insiders have increased from 3% of MPs in 1979 to 16% in 2010.