UK split on EU membership - BBC poll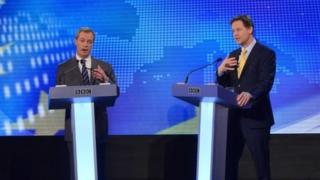 The public are split down the middle on whether Britain should leave the EU, a poll commissioned by the BBC suggests.
Some 35% of those surveyed would vote to remain in the EU if there were a referendum today, according to a Populus poll for the Daily Politics.
And 32% would vote to leave, with 27% saying they are undecided and 6% saying they would not vote.
The poll was taken on 2 and 3 April, partly in the aftermath of the Nick Clegg and Nigel Farage TV debate.
The online poll of 2,067 people uses a model developed by Populus, that divides respondents into six types, based on attitude and world view.
The people most positive about UK membership of the EU fell into the Optimistic Contentment and Cosmopolitan Critic categories.
Those groups most likely to vote to leave the EU were in the Comfortable Nostalgia, Hard-pressed Anxiety and Long-term Despair categories.
Regional analysis of the results found that Scotland, London and the east of England were most likely to vote to stay in the European Union, whereas the north west of England and the West Midlands were most likely to vote for the UK to leave.
A YouGov poll for the Sun, from December, suggested 32% say would vote to stay and 45% would vote to leave if a vote were held now.
But a majority would vote to stay in if Prime Minister David Cameron succeeded in renegotiating substantial treaty changes ahead of the referendum he has promised in 2017, if he wins the next election, the YouGov poll suggested.
On Wednesday, Lib Dem leader Nick Clegg went head-to-head with UKIP leader Nigel Farage in the second of two hour-long debates about whether Britain should remain in the EU.
Instant polls taken afterwards declared Mr Farage, who campaigns for Britain's exit, the winner.
A YouGov poll for the Sun suggested Mr Farage won by 68% to 27%, while an ICM poll for the Guardian suggested 69% of viewers thought the UKIP leader performed best.