Families £974 a year worse off since 2010 says Labour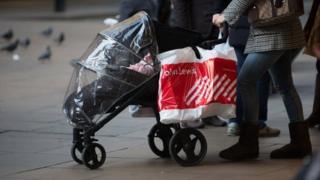 The average family will be £974 a year worse off by the time of the next election as a result of tax and benefit changes since 2010, Labour has claimed.
The opposition said the rise in VAT and cuts to tax credits and child benefit had hit families with children hardest, leaving them up to £3,700 worse off.
The figures are based on Labour's interpretation of research by the Institute for Fiscal Studies.
The government said the rich were paying the most to reduce the deficit.
The cost of living is set to be a key battleground in the run-up to next year's general election, with Labour and the Conservatives at odds over whether people have less disposable income than they did in 2010.
In recent days, David Cameron and George Osborne have been promoting changes in last month's Budget - including a further increase in the amount of people's income that is tax free to £10,500.
For some time, Labour has claimed that average real terms wages have fallen by £1,600 since 2010, due to the squeeze on take-home pay and the impact of inflation.
The opposition has now widened its attack, saying tax and benefit changes introduced by the Conservative-Lib Dem coalition government will leave families, on average, with an extra £974 hole in their pockets.
According to the party's calculations, a couple with children where only one partner works will be £3,720 worse off, in terms of net income by the May 2015 general election, taking into account all the changes since 2010.
Couples with children in a two-earner household will be £2,073 worse off, it claims, while childless couples where both partners work will have lost £438.
Pensioners, lone parents and single people will also be worse off, it adds.
'Out of touch'
Labour, which claims there have been 24 separate tax rises since 2010, said the figures illustrated that the government was "giving with one hand but taking away much more with the other".
"David Cameron is trying to tell working people they are better off but he is not fooling anybody," the shadow chancellor Ed Balls said.
"Whatever out of touch claims David Cameron and George Osborne try to make, these figures are clear: hard working people are worse off under the Tories."
But the government said official figures proved the rich were paying the most towards deficit reduction.
A Treasury aide said: "As part of our long-term economic plan to secure a better future for Britain, we are cutting Labour's deficit to deal with our debts, safeguard our economy and keep mortgage rates low.
"That has meant taking difficult decisions to control welfare spending, but we have ensured that the richest 10% of households contribute most to reducing the deficit.
"Labour have opposed every single one of these difficult decisions on welfare, and now Ed Balls is saying they want to spend and borrow billions of pounds more. Our children and grandchildren would pay the price with higher taxes."
Labour's calculations are based on IFS analysis of the Budget and research by the House of Commons library.
The IFS stressed that the conclusions were Labour's and not its own and that they included changes which the last Labour government introduced prior to May 2010 and were adopted by the coalition.
Speaking on Monday, Mr Osborne said a raft of cuts to personal and business taxes due to take effect this week were the "largest for two decades".
The rise in the personal tax allowance - the amount of income people are not taxed on - from £6,500 to £10,000 since May 2010, had enabled people to keep £700 more of their income, he added.
The threshold is set to rise by a further £500 next year.
The IFS has predicted that wages will start to rise faster than inflation later this year. But it has also warned that public spending cuts would continue to hit consumers.