Top tax rate cut is raising billions, says John Redwood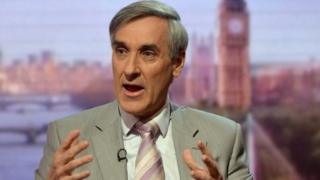 Cutting the top rate of income tax has massively increased the amount of money the rich are paying into government coffers, says a senior Tory MP.
John Redwood points to figures from HM Revenue and Customs that show a £9bn increase in tax receipts this year - after the top rate was cut to 45%.
The Office for Budget Responsibility suggests the boost is partly down to people delaying declaring their income.
But Mr Redwood insists it is not a one-off and will be sustained.
The previous Labour government created a new 50% tax band in 2010 for anyone with income of more than £150,000, but the coalition cut it to 45% last April.
'Eye-popping'
A Treasury analysis in 2012 estimated the switch to 45% would reduce tax revenue by about £100m.
But Mr Redwood, who co-chairs the Conservative Party's policy review on economic competitiveness, said the Treasury had been "utterly wrong".
"The Revenue and Customs figures for what actually happened is stunning proof that the tax cut from 50p to 45 has led to a big tax increase on the rich," he wrote in a blog.
He said the 50% rate had driven high earners overseas and encouraged them to use tax loopholes to declare less income.
The Office for Budget Responsibility (OBR) suggested the £9bn spike in revenues would not be sustained.
It said high-rate taxpayers knew a change in the rate was coming so declared less income than normal in 2012-13 - as they are entitled to do under the rules - and that had led to a big increase in 2013-14.
But Mr Redwood said the "eye-popping" amount that had been declared this year by high earners and the super-rich had taken even him by surprise - and he was confident the trend would continue.
'Self-defeating'
"I am quite sure we are going to get more in the following years. There will be a net gain," he told BBC News.
He added: "I just want people to know the truth, and I now have a very important ally in Revenue and Customs."
Mr Redwood is among a group of Conservative MPs pushing George Osborne, the Chancellor, to commit to cutting the top rate to 40p.
David Ruffley, a member of the Treasury Select Committee, told The Times that rates above 40p were "self-defeating".
"Most Tories want to get back to what was the economic and political consensus that was 40p. We're not saving millionaires, we just want to get back to the best way to raise money," he added.
Mr Osborne has yet to comment on his future income tax plans.
'Cost of living'
A Conservative Party spokesman said: "The government is clear that in clearing up Labour's economic mess those with broadest shoulders should bear the biggest burden."
The Labour Party is standing by its pledge to restore the 50p rate - and it described Mr Redwood's analysis as "very misleading".
Shadow exchequer secretary Shabana Mahmood said: "As the Office for National Statistics and the OBR have both said, many of the highest earners moved income and delayed bonuses by a year after George Osborne's 2012 Budget in order to benefit from the top rate tax cut."
He added: "It cannot be right, at a time when the deficit is high and ordinary working people face a cost-of-living crisis, to have given the richest 1% of earners a tax cut of £3bn a year."