Troubled families target likely to be missed, say MPs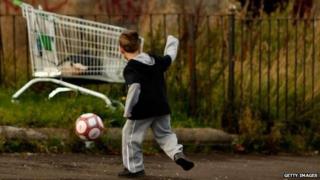 The government is "on course to miss" its target of turning around the lives of thousands of England's most troubled families by 2015, MPs have warned.
The Public Accounts Committee said schemes run by two government departments were both behind schedule and had to "speed up".
Ministers are spending almost £650m on tackling problems such as truancy, anti-social behaviour and unemployment.
The government said its efforts were "on track" and having a "big impact".
The Department for Communities and Local Government (DCLG) is spending £448m on its efforts to change the lives of 120,000 families it identified as being among the most troubled by problems such as unemployment and poor housing.
And the Department for Work and Pensions (DWP) is spending £200m on attempts to find employment for 22% of individuals being targeted by its own scheme, with private contractors being used to place people in jobs.
'Baffling'
In its report, the committee praised the "commitment" of those involved in each scheme, but questioned why they had been designed and set up separately, arguing this had resulted in "confusion and a lack of integration".
There had been "lower-than-expected" performances during the early stages, it added.
Unless the departments increased their work rate they would not reach their targets, the committee said.
The DWP had reached "just 4% of the programme's expected performance" as of September last year, with only 720 people having been found long-term work.
Meanwhile, the DCLG was 13% behind its own expectations by October.
The committee's chairwoman, Labour MP Margaret Hodge, said: "Both departments have got to speed up the rate at which they are succeeding in their work.
"Lower-than-expected performance has partly resulted from the government's baffling decision to implement two separate programmes for troubled families, which resulted in confusion and unnecessary duplication."
She added: "We now need to see clear improvements in performance against targets and real cash savings made from these programmes. And the government needs a clear plan for the delivery of the next phase of the Troubled Families programme, starting in 2015.
"These actions are essential not only to turn around the lives of the troubled families involved, but also to deliver savings and demonstrate value for money."
But a government spokesman said: "The Troubled Families programme is on track and having a big impact on some of the hardest-to-help families in the country."
He added: "But there is always more to do and we expect performance to improve even more over the next year.
"Over 100,000 families have now been identified for help through this programme and over 78,000 are being actively worked with. Together, these programmes provide value for money for the taxpayer through payment by results, which is better for taxpayers and those we are supporting on the programme."