Planning rules driving perverse behaviour, say MPs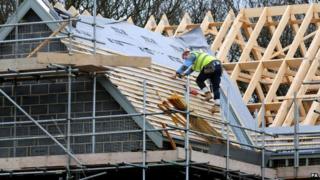 Government planning targets "may be driving perverse behaviour" by councils in England, MPs have said.
The Communities and Local Government Committee said some authorities were being praised for their speed of decision-making while actually being "horrendous" for builders to work with.
It has launched an inquiry into the effects of the National Planning Policy Framework, introduced in 2012.
But the government said it had speeded up and "streamlined" the system.
Under the framework, planning law in England was changed with the aim of accelerating planning decisions and boosting house-building.
Local authorities are required to work out future housing needs in their area, and then allocate sufficient land to meet them.
'Arbitrary'
The committee commissioned research from Cambridge University, whose researchers spoke to six "major" house-builders about their experiences.
Its chairman, Labour MP Clive Betts, said some local authorities had been deemed "exemplary" by the government because of their speed of decision-making.
But some of these had been "described as horrendous by those with first-hand experience of working with them", while certain "poor" councils appeared to be trying to "game the system".
Mr Betts added: "It is extremely concerning that efficient authorities, which focus on customer service and enabling good development, could be placed in special measures because they miss arbitrary and unsatisfactory targets."
But a Department for Communities and Local Government spokesman said: "The framework has streamlined and speeded up the planning system. Local Plans are at the heart of this and give councils more power to shape were development should go.
"But it's vitally important that projects bringing new homes and jobs can get under way as soon as possible and that applicants have full confidence their application is handled efficiently. By shining a spotlight on planning departments, we have already seen a number of councils raise their game and improve performance."
He added: "We have already acted to tackle concerns with councils and they can agree an extension of time if applications need more time than usual. And councils that refuse applications prematurely risk having costs awarded against them at appeal."