David Cameron backs Waitrose over free beverage policy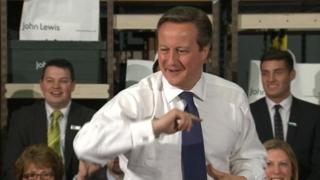 David Cameron says he cannot see what all the fuss is about over Waitrose's policy of offering customers with a loyalty card free tea and coffee.
Labour has raised concerns about the supermarket's promotion, claiming it is hurting independent traders nearby.
But asked about the issue on a visit to Greater Manchester, the prime minister said he did not know what "people were complaining about".
Shoppers are entitled to the offer once they register for a My Waitrose card.
The offer has been popular but has been criticised by some existing customers who have suggested that it is attracting the "wrong type" of shopper to the store.
No card-carrier
The Office of Fair Trading was asked to investigate the offer last year amid concerns about its impact on other businesses but said it would not be taking any action.
The prime minister was asked about his shopping habits by a member of staff at Waitrose's parent company, John Lewis, during a visit to its store in Cheadle.
Mr Cameron said he shopped at the Waitrose store in his constituency in Witney, Oxfordshire, as well as other supermarkets in the area, and used home delivery in London.
"I don't collect the cards... otherwise I would have too many different cards," he added.
"I have spent money in your shops. I have not yet enjoyed the free coffee.... Honestly, what are people complaining about? What is wrong with a free cup of coffee?"