Stay in the EU, Italian PM Matteo Renzi urges UK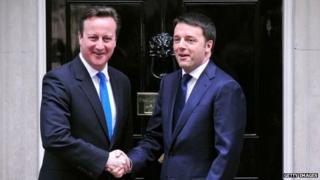 Italy's prime minister has urged the UK to stay in the European Union, saying it is crucial that it does so.
Speaking during a visit to Downing Street, Matteo Renzi promised that the two countries could work together to fight "red tape" in Brussels.
David Cameron has promised a referendum on leaving the 28-member organisation if the Conservatives win next year's general election.
He said he and Mr Renzi would both work to keep the UK in a "reformed" EU.
Mr Cameron has come under sustained pressure from many in his party to alter the country's relationship with the EU.
They complain that it has too much power over the UK and that it lacks democratic accountability, with some arguing for a withdrawal.
'Differences'
Mr Cameron says a referendum on the UK's membership of the EU will take place by the end of 2017 if the Conservative Party wins a parliamentary majority at the next election.
He has stated that his preference is to remain inside the organisation, as long as there has been sufficient reform, and has pledged to regain as many powers from Brussels as possible.
During a press conference, Mr Renzi would not be drawn on whether he shared Mr Cameron's desire to alter the relationship between the EU and member states.
But he said Italy, which takes on the presidency of the EU later this year, wanted to work "together with all its partners to create a different Europe... We want a better Europe, not more Europe."
Mr Renzi, who was appointed prime minister in February despite not being an MP, added that Europe had to drop "red tape and bureaucracy" and focus on creating a better "future for our children".
He also urged the UK against leaving Europe, saying its presence was "crucial for Italy... not just for the past but for the future".
Mr Cameron said: "Of course Matteo and I will have our differences. He is on the centre-left; I am on the centre-right.
"But we are both reformers. We both want to reform Europe so that it focuses more on the economy...
"We both want to achieve keeping Britain in a reformed European Union. There's much more opportunity to work together... There's a really good alliance that we can forge on this vital issue."