Unite's Len McCluskey warns over Labour 'defeat' in 2015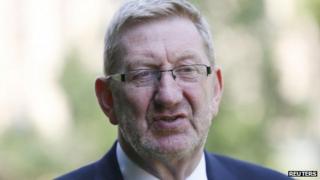 The leader of Britain's biggest trade union has warned Ed Miliband Unite could break its links with Labour if the party loses the next election.
Len McCluskey told reporters he could see the union voting to disaffiliate from a defeated Labour if it ceased to be the voice of working people.
He said he feared for the future of the Labour Party and said he agreed with those who said the party had no "God given" right to exist.
The party was at a crossroads, he said.
He told a press gallery lunch at Westminster that Labour leader Ed Miliband had not yet presented a "coherent vision" to the electorate and if it were "a pale shadow of austerity", then he believed Labour would be defeated in 2015.
Mr McCluskey also confirmed that there was a debate taking place within Labour over its strategy, between those favouring a "transformative programme" and those wanting to "shrink the offer" the party puts forward.
It was, he said, "grumble time" within the Labour Party and MPs were getting "uneasy".
He also said there was a danger of Labour taking UKIP for granted.
'Watershed'
Asked if Unite could give money to other parties, Mr McCluskey replied: "We are affiliated to the Labour Party. We cannot give any financial support to any other political party. So the rules within Unite would need to be changed."
But he added: "Can I ever envisage a rules conference voting to disaffiliate from Labour? I can, I can, and that's a challenge to Ed Miliband because I believe the Labour Party is at a crossroads, this is a watershed.
"Labour consistently has to demonstrate that it is our voice, we created it. At the beginning of the last century, ordinary working people sat down… to create a party of labour so that we had a voice in the political arena.
"Is Labour still that voice? I'm hoping the answer to that is yes, but we are at a stage in politics at the moment where just bumbling along in the old ways is not going to happen any more.
"People will put those questions under deeper scrutiny. And unless Ed and the Labour leadership demonstrate that they are on our side... then I can envisage a debate taking place if Labour lost the election next May.
'Lack of vision'
"I fear for the future of the Labour Party and so these are serious debates at this point in time in our history.
"We have to kind of consider all of those issues, at the moment, though that's not on our agenda.
"It is grumble time at the moment in the parliamentary Labour Party. People are getting uneasy. There isn't a coherent vision emerging. I am confident that what will emerge is a platform to take to the British electorate. I hope that it will be an alternative.
"If it is a pale shadow of austerity, then I believe Labour will be defeated at the next election.
"I believe that the British electorate are of a mind, unless there is a real alternative, to say 'We had better stick with the devil we know'."
"Ed's challenge is to simply demonstrate that he is on the side of ordinary people. He has to give hope to people, that we are going to do something different with power.
"If he does that with passion, with some conviction, then the polls will begin to alter and he will begin to be considered a genuine alternative. There is an argument between those who want a transformative programme and those who want to shrink the offer and play around with the 35% strategy. If we do do that, we will lose. If we put forward hope, then Labour will win.
"There is a danger that Labour take UKIP for granted. What Labour has to do is fill the vacuum. The reason UKIP is gaining is because people are thinking all political parties are the same, not dealing with their concerns over immigration or Europe."