Mark Menzies MP quits as aide over newspaper allegations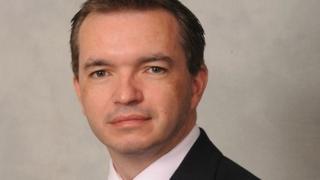 Conservative MP Mark Menzies has quit his post as a ministerial aide after newspapers reported allegations by a Brazilian male escort.
He resigned as Parliamentary Private Secretary (PPS) to International Development Minister Alan Duncan after an investigation by the Sunday Mirror.
The MP for Fylde in Lancashire said a number of the claims were "untrue" and he would set the record straight.
The outgoing chair of his local party said Mr Menzies had its full support.
In a statement, Mr Menzies said: "I have decided to resign as a PPS after a series of allegations were made against me in a Sunday newspaper.
"A number of these allegations are not true and I look forward to setting the record straight in due course."
The Sunday Mirror reported a series of allegations about Mr Menzies' private life which it said had been made by the Brazilian man, including claims that the MP paid him for sex and asked him to buy an illegal drug.
Mr Menzies, 42, has been active in the Conservative Party since he was 16.
He studied economics and social history at the University of Glasgow, and later joined Marks and Spencer as a graduate trainee.
He was elected an MP in 2010. Before working for Mr Duncan he was PPS - an unsalaried role and not technically part of the government - to the housing and climate change ministers.
'Very sorry'
Councillor Brenda Ackers, until last Tuesday chairwoman of the Fylde Conservative Association, said: "Mark has the full support of his constituency party."
She said Mr Menzies had called her on Saturday afternoon to tell her about the allegations.
"He said how sorry he was to cause so much inconvenience, which is very courteous of him and the way he usually does behave - very politely.
"He said I would get a lot of flak out of this situation and he was very sorry for it.
"I'm quite sure some of the allegations are completely untrue because you tend to know if people have bad habits like that when you see so much of them and he is a very active MP in the constituency."
She added: "At the moment he will have support from the members because they don't come to snap judgements."
Defence Secretary Philip Hammond, asked about the issue on the BBC's Andrew Marr Show, said he had not seen the Sunday Mirror article.
He said: "This is a personal matter for the individual concerned.
"It's always very sad when people are involved in personal issues that impact on their careers, but that's a matter for the person concerned."