Bring back Dad's Army banks, says George Osborne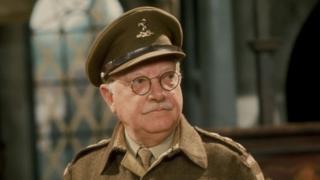 Chancellor George Osborne has hailed Captain Mainwaring as a role model for today's bank managers.
He said the bumbling Dad's Army character was at the centre of his community and knew all of his small business customers.
Britain needs more "face-to-face" banking, he told the Federation of Small Business conference.
He singled out two relatively new banks to the UK - Handelsbanken and Metro Bank - as leading the way.
Asked about Lloyds Bank's recent decision to axe half of its small business advisers, with the loss of 1,000 jobs, Mr Osborne said banks should be focusing on building closer relationships with their customers.
"I know people, when they watch Dad's Army, see Captain Mainwaring and he's a comic character.
"But it was interesting that the bank manager was at the very centre of local life, knew all the businesses, knew the people who ran the businesses and was empowered to make judgements about who had a good idea, who maybe had had a couple of failures in the past - but that wasn't their fault - and had a good idea going forward.
"And that is all gone. It's all 'computer says no'."
He added: "I think the future lies in much more face-to-face banking. I don't believe everybody wants to do this over the internet, particularly business customers."
He said Handelsbanken and Metro Bank were both examples of financial institutions that had focused on a more personal approach.
Handelsbanken is Sweden's biggest bank and now has 170 branches in the UK. It specialises in "traditional" banking, with customers having a more active relationship with their bank manager.
Metro Bank, founded by US financier Vernon Hill, was Britain's first new High Street banking name in more than 100 years when it launched four year ago.
Captain Mainwaring - played by Arthur Lowe - was one of the main characters in Dad's Army, a long-running 1970s BBC sitcom about the adventures of a small town Home Guard troop in the Second World War.
A pompous, self-important figure who keeps a tight rein on the purse strings in his day job at the fictional Swallow Bank, he has been singled out in the past as a role model for the banking industry.