By George! How MPs get namechecked by the chancellor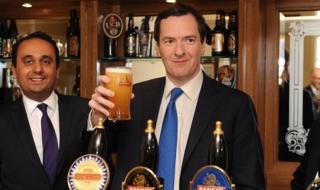 There can't be a much better feeling as a backbench MP than being namechecked (in a good way) during a high-profile Commons occasion.
The Queen tends not to get involved in such detailed matters when opening Parliament, so the next best thing would be a pat on the back from the chancellor during the Budget.
First things first - the stats
Chancellor of the Exchequer George Osborne has made 11 major financial statements since he arrived at 11 Downing Street: two Spending Reviews, the 2010 emergency Budget, four Autumn Statements and four Budget speeches.
Until November 2011, the only featured backbenchers were John Redwood, and Labour's Frank Field and Alistair Darling (all in the Spending Review). In 2011, he namechecked two. Since then, shoutouts have jumped: nine in 2012, 21 in 2013 and 14 so far in 2014.
So why the rise in namechecks?
There are two obvious explanations as to why the practice is increasing. First, we are getting closer to election year, and perceived success in lobbying government could provide a boost for MPs in marginal seats. Second, MPs have had more time to petition the Treasury on their pet peeves.
There are several MPs to whom the chancellor has paid tribute who do not fit into any of these categories - Jesse Norman on pension funds reform, for example, and David Mowat for securing lottery funding for a terrorism survivors' group. Nonetheless, there are some distinct themes emerging.
1) Have a small majority
This could be called the theme of themes. Of the MPs in the top 100 most marginal Conservative seats, 25% have been mentioned in Mr Osborne's financial statements since 2010. If you take the 50 most marginal seats, it's 18 MPs or 36%. To put it another way, only seven of the 32 Conservative MPs singled out by the chancellor have majorities in excess of 5,946 (the midway point if seats are ordered by majority).
2) Fight for motorists' rights
Righting a longstanding wrong that has stopped your constituents and their cars getting from A to B is another passport to getting named and famed. Graham Stuart and Andrew Percy were pioneers in this regard, singled out for praise in the 2011 Autumn Statement for their work on reducing the tolls on the Humber Bridge. Jackie Doyle-Price's mention in 2012 was for her commitment to the M25 upgrade, Michael Ellis struck gold this year with his petition against potholes and Graham Evans for his support for improvements to the Merseyside Gateway bridge.
3) Take to the streets
Support for High Streets and town planning is another fast track to the chancellor's heart. Broadband funding for small cities (Simon Kirby), empty property relief (Julian Sturdy and Paul Uppal) and lower business rates (Paul Uppal again, Marcus Jones, Amber Rudd and Mary Macleod) have all scored highly with the Treasury. See also Conservative safe-seaters Gareth Johnson and Adam Holloway, who got credited this year for new investment in the garden city of Ebbsfleet.
4) Back small businesses
There's some overlap here with points three and five, but still a strong category in its own right. Gordon Birtwistle (yes, you read right, a Lib Dem) and Andrew Stephenson have both received honourable mentions in conjunction with increasing funding for machinery used by small and medium-sized enterprises. Essex's finest - Brooks Newmark and Priti Patel - have been praised for appealing for tax relief on season tickets for commuters, and John Stevenson and Brooks Newmark (again) have been lauded for their efforts to cut National Insurance contributions for firms employing young people.
5) Relax the tax
Tax relief on petrol, bingo and beer have garnered multiple mentions for Andrew Griffiths, Andrew Stephenson and even Lib Dem Alan Reid. Paul Maynard and Charlotte Leslie have also received a pat on the back - for making the case that we should pay less for fuel and beer respectively. Peter Aldous shared the accolades this year for reducing the duty on bingo. But with whom?
6) Be Robert Halfon
Robert Halfon is known in Westminster for his eye-popping suits and ties. But the Harlow MP (majority: 4,925) also stands out as a remarkably successful campaigner on reducing fuel duty and, this year, bingo duty. In fact, he has something of a full house - he has been cited in four out of four of the chancellor's last speeches, a record unmatched by any other backbencher. Recently he set his sights on energy company charges for those not paying by direct debit, and lo and behold, the government ordered an investigation. If you're keen to get a preview of what Mr Osborne has in store for us next, he's worth keeping an eye on.