MP Peter Bone will not face benefit fraud charges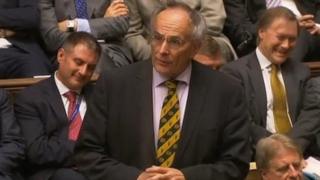 Conservative MP Peter Bone and his wife will not face any criminal charges in connection with allegations of benefit fraud relating to his mother-in-law.
The police investigated claims that assets belonging to her were concealed so Northamptonshire County Council would fund time in a care home.
But the Crown Prosecution Service said "no element of dishonesty" could be proved and it would take no action.
The MP, who always denied the claims, said his family had been "vindicated".
Details of the police investigation were revealed by the Times newspaper last month.
In response, Mr Bone - MP for Wellingborough - confirmed that police had raided his constituency office last year, confiscating parliamentary papers, including constituents' letters.
He said he and his wife had been involved in a long-running dispute with Northamptonshire Council about what he said was "their failure to properly fund her elderly mother's care needs".
Care dispute
Anyone with assets totalling more than £23,250 must pay their own care-home fees.
The MP accused the council of failing to comply with regulations on charging for residential care and failing to apply their own appeals system.
Mr Bone said that in January last year the council issued a writ against his wife claiming that she owed money and that this is subject to a civil case, which is continuing.
But, in a statement on Tuesday, the Crown Prosecution Service said there was "insufficient evidence" to justify bringing criminal charges in relation to the case.
"We were asked to consider whether there was a case for fraud by abuse of position and theft by disposal of assets belonging to the woman's mother," it said.
"We were also asked to consider whether there was a case of fraud by false representation to Northamptonshire Council in relation to the mother's assets.
"The evidence showed: firstly that the woman's mother considered the suspects' conduct to be acceptable; secondly that the suspects acted openly in declaring the sale of the mother's house to the council; thirdly that no element of dishonesty could be proved."
'Nightmare'
In response, Mr Bone thanked all those who had supported him and his wife during what he said had been a "surreal nightmare".
"What has been so frustrating about this whole episode is that it has been going on for over a year, without an opportunity for us to clear our names," he said.
"Jennie and I have just heard that we are not going to be charged with any criminal offence. This is obviously very good news and a vindication of our stance all along.
"As we have done nothing wrong and the Crown Prosecution Service only considered the evidence, not newspaper innuendo, we have been proven innocent."
The MP, elected in 2005, is a high-profile Eurosceptic who is well known for his attacks on his party's coalition partners, the Liberal Democrats.
He is also known for raising laughs in the House of Commons by regularly claiming to ask questions on behalf of his wife.
Before becoming an MP, he served as a councillor and worked as a chartered accountant.